PERSONAL NEWS #128


Friday, July 13th, was the annual E&Y FSO Outing. It's always nice to have a day off, enjoy good food, fun with co-workers and not have to pay for it. I arrived at the office at 8:30am. Those of us who didn't have a car boarded buses at 8:45am. The ride up to Platz Brauhaus, near Suffern NY, was very pleasant and I chatted with Stephanie and Juan. Stephanie brought her two daughters and Juan brought his wife, plus their adorable one-year daughter. We arrived shortly after 10am to Platz Brauhaus, which looks like a small charming village in Germany or Austria. Strolled up to "area 7" were we had to sign in, collect our free E&Y beach towel and get raffle tickets for prizes. I had orange juice and a donut for breakfast before locating some of my dept co-workers.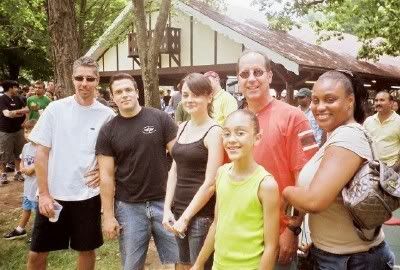 [A few of my Dept co-workers at the FSO Outing]

My co-worker, Dee, showed up with her daughter Challea, so we hung out and occasionally Stephanie joined us. Over next 3 to 4 hours we all enjoyed many fun activities, sit in the sun by the swimming pool, play with Spin Art, and even played a game of miniature golf. Darn, that was a tough course, and it didn't help that some of us ladies were abit tipsy from several glasses of wine. WooHoo! Around 3:30pm I sat with a few co-workers eating some Baked Ziti while Kurt called out names of those who'd won the raffle prizes. I was scanning raffle tix for myself, Dee and Rhonda, as those two ladies had to leave early. The big prize was a "Wii" and one of Rhonda's tix was the winning number. Everyone thought I was the winner and were surprised when I admitted I was holding the tix for a co-worker. I was being honest and others in FSO were baffled I didn't keep the item. It wouldn't have been the right thing to do. Around 4:15pm we headed to the parking lot to board our buses for NYC. The ride back took longer due to a major traffic jam at the Lincoln Tunnel.

Saturday evening, July 14th, I joined Linda and Max to see the Brooklyn Philharmonic perform at the band shell in Prospect Park. We met up at the park entrance and had some ice cream before strolling to the band shell. Originally thought these were free concerts, but we had to pay a $3 admission. Still, that's not a bad price, plus one gets to hear a philharmonic for two hours. Linda works for BCAT and they were there filming event for cable TV. She chatted with several of her co-workers. Starbucks was the sponsor and handing out free coffee samples. I'm not a coffee drinker, so I passed, but Linda said it was okay. The place was filling up quickly and we found a grassy area near the sound board to spread out our folding chairs and towels. The weather held up nicely and wasn't that humid. At 8pm the philharmonic started with Copland's "Fanfare for the Common Man". Then came the "Grand Canyon Suite" by Grofe, this was followed by a brief intermission. The rest of the program was music by Mark O'Connor who played violin. [Three part composition was titled "For the Heroes".] He was accompanied by a cello soloist [Maya Beiser] and the Brooklyn Philharmonic. The evening closed out with the Sabra Dance by Bartok. Overall a lovely evening, pleasure to hangout with friends and hear good music.

On Thursday, July 19th, I attended the monthly NYDoP Core Team meeting. We had a good, productive, fun meeting and some guests from "All Stars Foundation" joined us. They brought some fresh, new ideas, which is always welcome. Main topics of discussion were on the upcoming CHOOSE PEACE benefit concert in September, plus fundraiser events, DoP State Coordinator conference and tabling near green markets in the NYC area.

Friday [July 20th] after work was a busy one for me. I did my usual volunteer work with City Harvest at Union Square farmers market. It was just Kristina and I this time around. Back in my neighborhood, I stopped by to visit with Gail and see development on her landlord's courtyard garden. Like my courtyard, Gail is working on spiffing her place up and utilizes it during the day or evening. She's really good with gardening and has some lovely plants in the courtyard, plus a small table with a few chairs. Gail mentioned that she and her hubby Rob are going to a Harry Potter "adult" midnight party at small bookstore in our neighborhood. The final book [Deathly Hallows] release date is July 21st. They invited me to join them. At home I took care of some chores before taking a 1 ½ hour nap, so I'd feel refreshed when I joined Gail and Rob at 11pm. We strolled several blocks to our neighborhood bookstore for the Harry Potter party. Earlier in the day I was reading how many bookstores around the US and England were holding parties and start selling the books at 12:01am. Weather was comfy with abit of a breeze that evening. At the store we went down to the lower level where the staff had decorated it with banners, posters, streamers, balloons and served goodies that one might find at the Leaky Cauldron. Plus there was alcohol, hence no kids allowed at this party. It was great chatting with others who are passionate about the Rowling books. After awhile the three of us headed up to the main level, as there was no air conditioning downstairs and it was filling up with alot of people. There were games and raffle prizes all Harry Potter related. The whole event was very enjoyable and as the clock crept closer to midnight, we all gathered on line to purchase our books. After about 20 minutes or so, I finally got my book and didn't care how much it cost. With books in hand the three of us walked back home and speculating on who dies, plus general outcome. Back at home I washed up and got ready for bed. Did I go straight to sleep? Hell no! I stayed up until 2:30am reading the book and finally put it down halfway through chapter four.
Kucinich is Right on Healthcare

Derrick Jackson / The Boston Globe
http://www.boston.com/news/globe/editorial_opinion/oped/articles/2007/08/29/kucinich_is_right_on_healthcare/
Leaders Afraid to Lead: Empty Rhetoric in Congress

Walter Brasch / Counterbias
http://www.counterbias.com/914.html
[Duchess Note: Many thanks to Linda Z in TX for contributing the above articles. Also, many thanks to Ken S for the following commentary and link … "Join the movement of our time and be the change you'd like to see in the world ... pass this on to those of U.S. in need of encouragement to act on our most deeply cherished values. Check out the link ...
http://theshiftmovie.com/index2.html
P.S. Please note the one politician in this movie who actually has proposed real legislation to actualize this vision and be sure to vote for him if he represents your value."]