PERSONAL NEWS #174
On Sunday afternoon, January 3rd, I attended the annual NETS "Tolkien Toast" event, which was held at "Terrazza Toscana" restaurant on 9th Avenue around 50th Street. Really good food, prices were standard for midtown and the service is great. It was great seeing and chatting with many members of NETS, some I hadn't seen since early October at RCMH. [Attendance was ... Anthony, Jessica, Dennis, Timdalf, Carole, Mary, Andi, Vicki, Adam, Leanna and I.] Main topic of discussion was the next "phase" of the dramatic reading for "The Council of Elrond" on "Tolkien Reading Day". After the late lunch I hung out with Dennis for two hours, and he very kindly assisted me with better understanding my new digital camera. We went back to "Terrazza Toscana" restaurant to meet up with Kathy and have a light dinner, plus interesting conversation.
Tuesday, January 5th, found me back at foot doctor for therapy on my left foot.
Thursday evening, January 7th, I attended TGTSNBN first meetup of the year at the Sony Atrium in midtown Manhattan. Really good meeting, nicely attended, great seeing everyone, and Jonathan mentioned lots of cool ideas/events for 2010. One of the ideas would be organizing and compiling of a TGTSNBN yearbook. That idea really excited me the most, plus more Quidditch matches throughout the year. I arrived home in time to jump on the "World Can't Wait" conference call at 10pm. Discussion was mostly on Afghanistan, similarities between Bush/Obama Regimes, John Yoo on book tour, and the attempt on Xmas Day by the bomber.
Friday evening, January 8th, I joined other ladies for the "Friday Nite Knits" in Brooklyn.
Sunday afternoon into early evening, January 10th, I visited my friend Anni in Bay Ridge [Brooklyn] to enjoy a Vegan Indian lunch and meet her 2-month old baby girl [Rebecca]. The meal was very good and so tasty. Her new daughter is so adorable and napped most of the time. We also watched the film "UP" by Pixar, and were entertained by Annie's 6 year old daughter Rachel. I had a nice, relaxing afternoon and catching up with Annie on news/gossip, plus seeing her new apartment, which isn't far from the NYC harbor. I'll come back for another visit when the weather is "warmer", so that we can enjoy a stroll at the local park and pier.
Wednesday, January 13th, I attended the NYDoP CCR committee "in person" meeting at Kevin's office. It was a productive meeting and the whole committee was on hand. We took away several "City Council" action items to work on in pushing for a DoP Resolution.
The following evening, January 14th, I joined in on the World Can't Wait conference call at 10pm. Talk was mostly about protesting John Yoo at Berkeley and his appearance on Jon Stewart's "Daily Show". There was further discussion also on Andy Worthington's documentary on Gitmo, situation in Yemen, and the fact that Obama is still putting forth Bush/Cheney regime policies. The latter doesn't surprise any of us leftwing Progressives and Socialists. As we are wont to say ... "same suit different man".
Friday after work, January 15th, I had an emergency chiropractor appointment to deal with my lower back. The strain of a hectic, stressful work week, I'm sure, did not help the situation. Wednesday through Friday we EA's at EY were nervous and stressed due to "layoffs" at the office. These "layoffs" were not just at the NYC office, but throughout EY offices in the US. So far I've retained my job [amen!], but was very upset to learn that Aisha, Dee and Barbara were "let go". This type of upheaval makes any attempts at sleeping at night abit of an issue. Sigh!
Saturday afternoon into evening, January 16th, I joined members of TGTSNBN for the monthly Quidditch game at Riverside Park. The weather was sunny and around 45 degrees. I've been keeping score at TGTSNBN Quidditch matches since the beginning June 2008, and on this occasion I was also a referee. The teams played several energetic games and each team [ie: Centaurs, Dementors & Marauders] won a game. I passed on having lunch with the gang, as I had to race home to do laundry and change into fresh, clean clothes. I'd been invited by P&N [along with a few of their friends] for a dinner engagement at "Caravan of Dreams" in the East Village. The vegan food is so good at this establishment and I highly recommend it. Before arriving at the restaurant, I stopped by Commonalities Health Food store for some supplies. I had an enjoyable evening with P&N, whom I hadn't seen since late September, and their friends are very hip. Excellent food and conversations mostly centered on Veganism, as well as politics.
Tuesday evening, January 19th, I attended the NYDoP "working" meeting at William Troy's office. Those of us that gathered worked on "Valentines for Peace" cards, which we'll deliver and/or mail to NY City Council members. These valentine's are to bring awareness, plus promote NYDoP and a DoP resolution.
The next morning, January 20th, I joined other EY BSC members for an important meeting following several EA layoffs of week before.
Thursday evening, January 21st, I listened in on the "World Can't Wait" conference call at 10pm. The topic[s] were mostly on Roe vs Wade anniversary, Stupak and crisis in Haiti.
The following evening, January 22nd, I attended the "Friday Nite Knits" group in Kensington area of Brooklyn.
Saturday morning into late afternoon, January 23rd, I joined other TGTSNBN members at Bryant Park's "The Pond" for a skating event from 11am to 2pm. The weather was such a nice, sunny winter day. Most of the members skated, while those of us less adventuresome decided to sit it out in the Celsius Lounge with a drink and lite snacks. The Celsius Lounge is right there at the edge of the skating rink, so we were able to watch our friends in warm comfort. Many "muggles" commented on TGTSNBN members Hogwarts house attire.
As you can see from the group photo below, three of the four houses were nicely represented.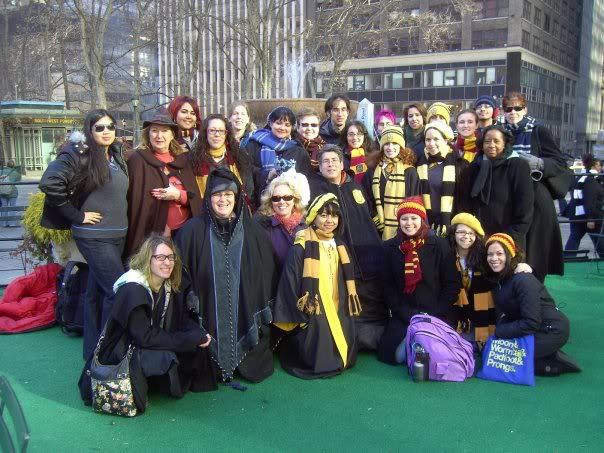 [Duchess in the last row all the way to the right]
Yes, I know, even though I am a confirmed Hufflepuff, I was wearing Ravenclaw house colors of blue/silver. I just don't like yellow and find I look better in the blue. So now I'm known as a Huffleclaw by other TGTSNBN members. Afterwards we headed over to a Chinese restaurant on Lexington Avenue for a late lunch and many diverse conversations. Overall it was an enjoyable Harry Potterish type day.
Thursday evening, January 28th, I attended the ISO panel discussion on the current situation in Haiti. Several speakers were on board with their thoughts and views on the crisis since the earthquake hit on January 12th. The evening speakers were David Wilson, Ashley Smith and Roger LeDuc. Their views had many parallels and were expressed in diverse manner. Brian Jones started the evening with a brief talk on the late, and very much missed, Howard Zinn. [I definitely want to see the documentary called "People Speak".] I also ran into Jim McCabe [NY Metro Progressives] at the event and we chatted abit. [I recently became a member of NY Metro Progressives. Great group and many of them I worked with on the Kucinich campaigns, as well as PDA.] Later that evening, at 10pm, I jumped on the "World Can't Wait" conference call, which touched on several topics.
Saturday afternoon into evening, January 30th, I was invited to Thom and Jenna's place out on Staten Island for shopping, socializing, and the preparing/eating of Vegan goodies. Plus met and played with their three dogs [ie: Jack, Coco & Molly] and two cats [ie: Silver & Millie]. My fav of all the pets was Molly, and would have gladly adopted her if pets were allowed in my apartment building. Also joining us was Deanna and Deborah ... we are all members of TGTSNBN. We spent some time at A.C.Moore shopping for yarn and other treasures, and then went next door to the Asian Food Market. Loved both places and came away with many goodies [ie: Moshi!]. Thom, Deanna and I started prepping the Vegan meal around 6pm and we finally sat down to partake of it around 10pm. It was ALL so good, plus lots of diverse conversation, and interaction with the pets! Left around 11:50pm and got a lift home from dear Deborah in her car.