Quote From Recent Speech By 2008 Presidential Candidate Dennis Kucinich
On reclaim the tenants non-proliferation treaty, that we stop building new nuclear weapons.
"We're not here to experience Armageddon, we're here to experience the unfolding of paradise and not make it hell on earth but create heaven on earth, which is a possibility, if we only believe it and act on it. We have that potential in our hearts if only we get rid of our fears, our fear that we're not going to get ours. Everywhere today in our government there is an effort to destroy the commons. I believe in public ownership of all public facilities, because if you do not own them, they will in time own you and destroy your liberty."
THIS SEPTEMBER
"CHOOSE PEACE"

New Yorkers for a Department of Peace (NYDoP) announces the launch of CHOOSE PEACE, its second annual September peacebuilding event, and the companion website.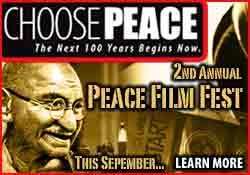 CHOOSE PEACE at
www.nyc-dop.com/choose/
CHOOSE PEACE is a series of events coordinated by NYDoP and hosted around the world, honoring the 11 days of Global Unity from September 11-21, 2007. The CHOOSE PEACE campaign will raise awareness and funds for the Department of Peace campaign. CHOOSE PEACE will consist of a musical event in New York City on September 7, 2007 that will launch Global Peace Film Fest. Building on last year's Gandhi film festival, NYDoP asks participants around the world to organize house parties between September 11 and 21, the International Day of Peace, by watching a film of their choice, hosting discussions, raising awareness and funds for the Department of Peace campaign and engaging in postcard writing to key decision-makers in Washington, DC.
Visit
www.nyc-dop.com/choose/
to find out more about CHOOSE PEACE, to attend or organize events, to obtain postcards, to support the event and to get more involved. Check back often as the website will be updated with new information regularly. NYDoP appreciates the time and effort you spent organizing a Gandhi film screening last year and hopes you will consider participating this year in CHOOSE PEACE.
House Party Kits are now available (for a requested $25 donation) to assist you in having a successful event. Visit
http://www.nyc-dop.com/choose
for more details.
Share this ad with others and for more information, visit the This September... CHOOSE PEACE website at
:
http://www.party2win.com/ny-dopeace