MEMORIES OF CHRISTMAS 2007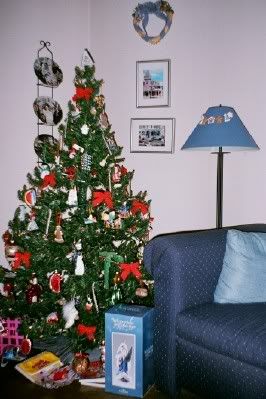 [Note: Xmas afternoon at the Duchess home with presents under the tree]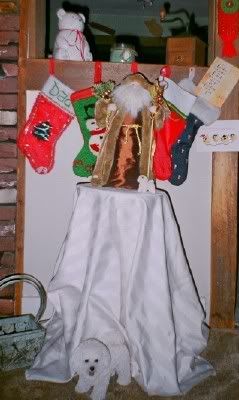 [Note: Some holiday decor at my parent's home]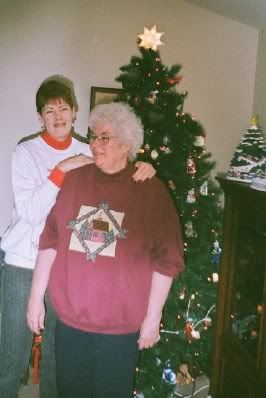 [Note: Sharing Xmas morning with family ... Duchess with her Mom]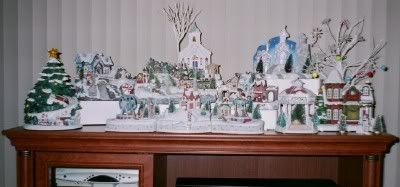 [Note: My sister-in-laws Xmas village display]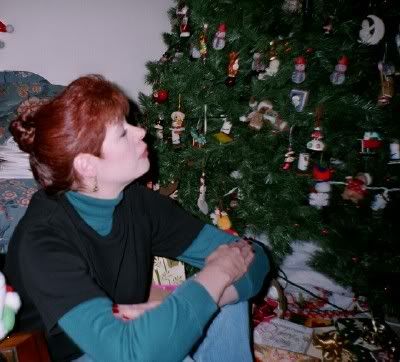 [Note: Gazing up at a pretty tree on Xmas Eve]

[Duchess Note: More "personal news" will be on the way. Stay tuned………….]
PERSONAL NEWS #134
On Saturday, November 3rd, I attended an impromptu dinner/meeting with some NYDoP board members and Marianne Williamson was our guest. We converged on a nice, charming French bistro on the upper eastside of Manhattan to discuss plans for 2008. Our thoughts on how to "be the Dept of Peace legislation", to which Marianne Williamson added her thoughts and several suggestions. We also had a general discussion on the upcoming 2008 Presidential primaries. It was announced that Dot Maver would be stepping down as president of The Peace Alliance, and that Marianne has taken over that stewardship. Overall a terrific meeting and the food was tasty.
Sunday, November 4th, I joined my friend Jackie for an afternoon visit to Piermont, NY, which is situated north of Manhattan on the western slopes of the Hudson River. Piermont is such a charming little town with some fine houses, condo's, restaurants and shops along the river. Both of us were having some health issues, but we ignored them as best as possible to tour as much as we could of "downtown" Piermont. We took a leisurely stroll along the waterfront, farmers market, shopping at the boutiques, a tasty lunch at a nice restaurant, plus admiring the views of the river.
[See photos below]
Our next excursion will be in the spring and we'll explore Nyack, which is just up the road from Piermont. Before jumping on a 5pm bus back to NYC; Jackie and I stopped at a café for some dessert type refreshment. Despite the increasing foot discomfort I had an enjoyable outing.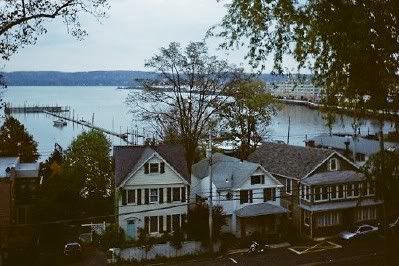 On Monday, November 5th, I went to see a foot doctor [after work] about issues I was having with bottom of my left foot/heel. This situation has been getting progressively worse over past few weeks with discomfort and some difficulty in walking. After a discussion with the doctor and X-rays it was determined I had Plantar Fascia. Thankfully no surgery was required. All that was needed was shots of Cortisone in my heel, foot therapy, stretching, Ace bandage and anti-inflammatory medication. Doctor said it could take 4 to 6 weeks to completely heal.
Sunday, November 11th, I joined several other NYC Kucinich Team members [ie: Thomas, Phoebe, Linda & Max] to do petitioning and tabling in the Park Slope area near the Food Coop. With my foot situation I sat it out next to Food Coop's table loaded down with Kucinich campaign materials. We were all bundle up, as the weather was abit brisk and cool. Despite the weather the team pulled in over 420 signatures in three hours. We gave out lots of flyers, discussed issues with voters and brought in $50 in donations. It was a productive, interesting afternoon.
Thursday, November 15th, was the last monthly NYDoP board and core team meeting for 2007. Not many team members attended, so we were able to briskly go through the agenda and finish up in less than two hours. Main topics of discussion were upcoming events and conferences for 2008. Dept of Peace chapters in the northeast will be hosting a weekend conference in Rhode Island during March. I am so looking forward to attending. It'll be exciting, fascinating and inspiring.
Friday, November 16th, volunteer work for City Harvest at the Union Square farmers market.
Saturday, November 17th, joined several other NYC Kucinich Team members [ie: Thomas, Phoebe, Linda & Max] to do more petitioning and tabling in the Park Slope area outside of the Food Coop. We did very well in obtaining signatures on DJK petition forms, though not as well in regards to donations. The weather wasn't as brisk as the week before, but we all dressed accordingly. Plus I treated the team to hot beverages from the Tea Lounge, which I might add, were very tasty.