MESSAGES [plus photo] FROM MEMBERS [ie: Carol, Kevin & Marianne] OF "NEW YORKERS FOR A DEPT OF PEACE" CAMPAIGN ON YESTERDAYS WONDERFUL PRESS CONFERENCE ON STEPS OF NYC'S CITY HALL
Carol Hillson [NYDoP Chair Person] Commentary
- For those of you, who may or may not know, yesterday was an exceptional day for
NYDoP and the Department of Peace Campaign
. A resolution was introduced to the New York City Council by Council Member Rosie Mendez calling for a U.S. Department of Peace and Nonviolence. The press conference held this morning played at 6 pm on WFUV radio out of Fordham University. Local TV station, Channel 9, broadcast a 30 second segment during the 10 pm news as well. Both outlets represented the campaign favorably. This is exceptional!
My deepest appreciation to all who worked tirelessly on this with very short notice. I think there was all of 3 weeks to plan! Thanks to Kevin Fagan, our illustrious Legislative Coordinator, Karen Murphy for her extraordinary efforts helping organize the day and acting as MC, to Marianne Perez for her incredible media and stage managing skills, to Joe Allegro, Charlene Barker, Adriana, Susan Cushman and Marni Goldner for helping contact the press, to Eileen Ilardo in helping contact endorsers and to Norma Loeb for initiating the idea and as always alerting the NY Times reporters to this event.
And thanks to all who showed up to support the campaign and be ON TV! Liz Graydon is always willing to travel in from LI, Ellen Jaedicke ferried over from SI and Dawn came down from mid-town! We have a dedicated and amazing team and we are doing great work together. We are also grateful to Lindsey and Ken Neal who have been providing us with professional PR advice and counseling. It's definitely working! We are so grateful that Dot Maver was in town and willing to stand with us and speak about the importance of this effort on behalf of New Yorkers as well as people all across this nation. Her words were stirring and so fitting.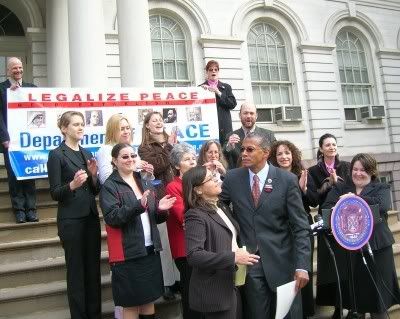 [Above Photo - In front, with many NYDoP members behind them, is Councilwoman Mendez and Councilman Jackson at City Hall yesterday. Yours truly is holding the NYDoP banner with Joe Allegro. I was "oh yeah!" in regards to a statement by Councilman Jackson.]
Kevin Fagan [NYDoP Co-Chair Person] Comme
ntary - Today was indeed a wonderful and satisfying day for
New Yorkers for a Department of Peace
. Our press conference went very well. We had a few radio stations present as well coverage seen on My9 10 o'clock news (I just saw it and we looked great - video to come as soon as I am able to transfer it from VHS to digital)!
Our own Karen Murphy did a first rate job as emcee, as well as writing up most of the talking points. Councilwoman Rosie Mendez was first to speak after Karen's intro. After Rosie was a surprise guest in Councilman Robert Jackson, who really helped fire everybody up and agreed to be another co-sponsor of the resolution. (That makes 6 at the moment>) Dot Maver spoke passionately and eloquently as always and Congressman Jose Serrano (a co-sponsor of the Congressional bill) was represented by his District Director Cheryl Simmons-Oliver. All in all a very promising day for peace!
Now is the time to make ourselves heard in City Council and the halls of Congress. New Yorkers please contact your City Council member persistently in the coming weeks and ask for their support of City Council Resolution 627. You can find there info he
re:
http://www.nyccouncil.info/constituent/index.cfm
And while you're at it, don't forget to let your U.S. Representative and Senators hear from you as well. Ask for their support for HR3760 in the House and S1756 in the Senate.

Marianne Perez [NYDoP Media Coordinator] Commentary
- Just a quick report to let you know that today the New York City Council introduced a resolution in support of the national Dep't of Peace legislation.
To mark the occasion, we held a press conference on the front steps of City Hall. Councilmember Rosie Mendez spoke about why she was presenting the resolution and Dot Maver gave an overview of what a DOP would do. My favorite part of the press conference was when NY-DOPer Karen Murphy was reading the list of Councilmember's who had already committed to supporting the resolution. As she concluded, Councilmember Robert Jackson walked up and said "And you can count me in too!" This could not have been better staged.
So far, we've tracked that we got covered by WFUV (my favorite radio station, ever!
http://www.wfuv.org/
) with Dot's brilliant sound bite and Channel 9 News with Rosie's emphatic support and excellent DOP banner visuals. We are particularly thrilled that they got the story right and the entire facts straight and that the messaging was perfectly reflective of our mission. We expect more stories to come up today and in the coming days. The resolution has now been assigned to committee for hearings.