THIS NEWS TIDBIT FROM BLOGGER "Talking Points Memo"
So many disputes about John Kerry's military service record that even the 'wingers can't sort them all out':
Deborah Orin, 8/5/04, New York Post
: "The book, by Vietnam vet John O'Neill who served with Kerry, adds: 'What [Kerry's] fellow Swiftees concluded was that Kerry had a very high regard for his own wellbeing and very little nerve for facing serious combat.'
Luiza Ch. Savage, 5/5/04, New York Sun
: "Mr. O'Neill did NOT serve with Mr. Kerry, but took over his boat several months AFTER Mr. Kerry left Vietnam."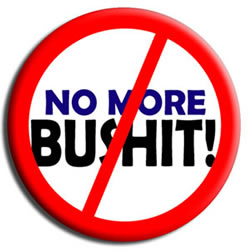 ANOTHER GREAT NEWS TIDBIT FROM BLOGGER "Daily Kos"
"Bush Is Losing It"
It's bad enough he has to campaign in Virginia, supposedly solid Red territory. But then, he follows up with yet another "gaffe" ... Bush also said high taxes on the rich are a failed strategy because "the really rich people figure out how to dodge taxes anyway." Right, obviously a notion from personal experience.
A Kerry guy in Virginia hit this softball out of the park ... Asked about that comment, Jonathan Beeton, spokesman for Kerry's campaign in Virginia, said "George Bush can speak with authority about really rich people. ... That's his base, so I'm sure he knows what he's talking about. But that doesn't make it right."
Here's a better idea -- tax those most able to pay for it, close loopholes, increase penalties for tax cheats AND strengthen enforcement. That way, Bush's friends won't be able to dodge taxes. But whatever. Abolish the speed limit because people speed anyway. Abolish drug laws because people do drugs anyway. Eliminate murder statutes because people kill people anyway. Damn that man says stupid things!!