PERSONAL NEWS #107

Greetings All … Sincere apologies for the long delay in updating "Personal News" here at the Duchess Blog. To be honest with yah, these occasional delays are sometimes due to busy work and numerous project schedules. And other times I get abit lethargic. So, without further ado, here is the latest update. [With more to come over next few days. In the meantime, check out many new "links" in column to the left. More will be added over next week.] Peace, truth, love, hope, justice and compassion is a beautiful path to be on. . . .

After much planning since early April, our Sept 11th Gandhi/100th Anniversary event finally arrived. It is also the 5th anniversary of 9/11. Took today off from work as a vacation day, as well as the next day, which was NY state primary. The press conference was to begin at Regal Cinema at 10am. As I got off the E train near "WTC" at 9am, there were police and huge crowds of folk at "the site". Had no troubles walking through and a few police officers kindly helped me navigate with my small hand-cart of NYDoP items, plus tins of brownies/cookies. Once at the cinema it took awhile to find the NYDoP core team. Had to utilize the many escalators and found our team setting up in the cinema assigned for three showings of GANDHI. Handed out the goodies and then went to setup, plus post myself at our display table outside & not far from concession stand. Sadly, not all of the scheduled guests attended and a minimum of press. But despite all that the press conference was filmed and a success. Those who attended, and throughout rest of the day were greatly inspired by
SATYAGRAHA and GANDHI
. I finally got to see the whole film on the large screen and was greatly impressed by Ben Kingsley's powerful performance as Gandhi. Actually, the rest of the actors and cinematography were also brilliant. Rob Graydon is the director of the 17 minute documentary on Gandhi and peace related topics called SATYAGRAHA. This is just a taste of what is to come down the road … a full length feature documentary. More can be learned at
http://www.nyc-dop.com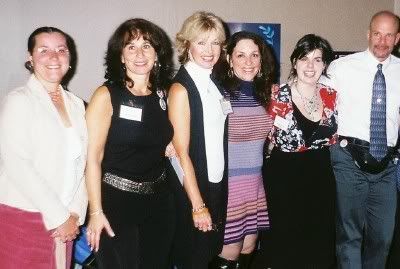 [L to R - Dawn, Norma, Eileen, Liz, Marianne & Joe during morning events.]
Had a most enjoyable, fascinating late lunch with Joe, Chris and Marie Ukeye [Rwandan survivor] at Appleby's. In the morning my follow goddess, Cielito, came by to see the films and review event for Share International. That evening fellow NYC Kucitizen, Thomas, stopped by to see the films. OMG … has it been a year since I last saw this terrific chap, whom I might add, gives the best hugs. It was also great seeing Ellen and her beau Larry. [Thanks for the lift to the nearest subway!] People did pick up literature on DoP and purchased some of my "peace bead earring" creations. Dian Killian was also there with her Brooklyn NVC table. This was a great experience and quite a learning curve, not only for moi, but others in our core team. Will we do something like this next year … oh yeah! Peace is the way!
Find me on MySpace and be my friend!
Participated in the "Number the Dead" demonstration and silent vigil on Sunday, Sept 17th, at 10am. I learned about this event from my friend Thomas a few days before it happened. Many participants positioned themselves along the blocks of 5th Avenue from 20th Street up to 70th Street. I was stationed, along with "Women in Black", across the street from the famous New York Public Library. We also received "Imagine Peace" buttons, which were donated by Yoko Ono. For an hour I held two signs of dead American soldiers from the Iraq occupation. Their names are: Sgt Moses D. Rocha [33 years of age from Roswell, NM] and Capt Douglas A. Dicenzo [30 years of age from Plymouth, New Hampshire]. It was an interesting experience and brought about mostly positive reaction from pedestrians. One city bus driver slowed down to thank us & ask we pray for his son stationed in Iraq. Some teens walked by making rude comments and laugh. [Would they still be laughing if Bush & Co brought back the draft?] I was wearing my Dept of Peace t-shirt and several of event participants inquired about DoP. Talked with many on the topic and handed out NYDoP business cards with website link on it. After eating a light lunch at my office on 7th Avenue, I headed up to the annual Art Show at Lincoln Center. I love this show, with many wonderful works of art, jewelry, sculpture and fashion by talented artisans. I purchased a sterling silver hair clip with a heart design and got some "ideas" for new earring creations.
On September 20th I had a business lunch meeting [ie: Dave & Busters] with one of my bosses, Debra, to discuss my secretarial duties over next six months. It was an enjoyable, productive lunch.