WHETHER YOUR 18 OR 65, IT'S IMPORTANT FOR ALL AMERICAN CITIZENS TO GET OUT THERE TODAY AND VOTE
--
The future of our country
hinges on keeping the vote intact, truth, peace, justice and bringing back democracy
MESSAGE FROM SENATOR HARRY REID
Go vote; bring your friends to vote; and call you relatives to make sure they are voting. Wherever you live, there is an important race going on. It might be for the Senate, or the House of Representatives, or for Governor, or mayor. One constant remains: Democrats stand for changing the course and Republicans want to keep things the same both in Iraq and here at home. So if somebody asks you today why it's important to vote Democrat you tell them, Democrats have a detailed plan for a new direction. It begins with six in '06:
1. Real Security including the redeployment of US Forces in Iraq2. Raising the minimum wage3. College access for all4. Energy Independence5. Affordable Healthcare6. Retirement Security
You can check out
http://www.GiveEmHellHarry.com
for updates and video throughout the day. We can win. We just need to keep working through the final stretch and not give an inch. It's time for a new direction.
[Duchess Note - In regards to #1, I'm not for redeployment, but totally support candidates who say bring ALL OUR TROOPS HOME NOW. Some may agree with me and some may not. Thats okay ... totally cool with that.]
NEW YORKERS FOR A DEPT OF PEACE CAMPAIGN PARTICIPATED IN THE 4TH ANNUAL BROOKLYN PEACE FAIR ON OCTOBER 22ND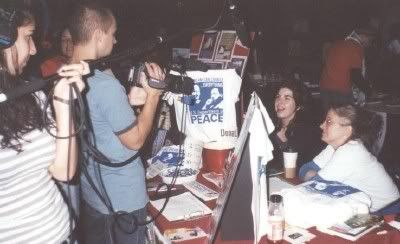 [Above Photo - Students from Long Island University interview Marianne and Carol at the "New Yorkers for a Dept of Peace" table]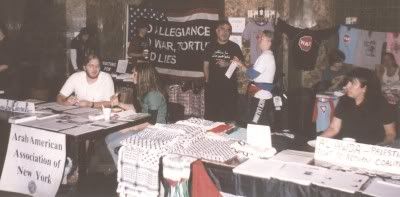 [Photo Above - There were many peace related groups tabling at the Peace Fair. Here is a view of some of them.]