PERSONAL NEWS #109
On Wednesday, October 18th, I took a vacation day to recuperate from the evening before at the Continental Arena and seeing the Red Hot Chili Peppers. I took care of errands around my neighborhood before heading back into Manhattan to meet my ride to the arena. Yep, back out to Continental Arena to do more tabling for DoP and see the RHCPs. Met up with Joe, Rob and Liz to drive out to NJ and met up with Kevin at the arena. This evening we have three tables and more volunteers to help out. We engaged several young volunteers who'll "connect" with fans who come to the show. [Adrianna and her husband were leaving abit early and they offered me a ride home.] At 6:30pm the doors opened and the fans poured in. I engaged in numerous talks with individuals, got signatures and gave out info. [The warm up band still hadn't improved & Joe sat there utilizing earplugs.] At one point a nice young man, who was blind, stopped by our table seeking the RHCP merchandise. As Liz and Rob watched out DoP table I took the young man over to the merchandise. We talked about the band and I then explained in detail all the items for sale. He was interested in t-shirts, prices, etc. We finally narrowed it down to a nice, funky black RHCP design t-shirt, which he paid for with a credit card. From there I guided him back to his seat in the handicap section. Only got to hear and view an hour of the RHCP show, but what I did hear was great. Liz told me next day that after I left with Adrianna the band played "Under the Bridge". Damn! I really like that song. Would love to find some CD bootlegs of the show and especially of the first night, but in the meantime, I've been watching some videos via Utube.
Thursday, October 19th, was the FSO Insurance Tax outing up in northern Westchester County to play paintball. [Well, others played paintball; I joined 5 of my co-workers in being observers. Much safer that way and no pain involved. It was an overcast, cool day.] Met up with Dee [car] at a spot in the Bronx off the #2 subway line and it took us an hour to drive to the location on Rt 22. We arrived close to 9:40am and saw several of our colleagues already there drinking coffee, juice and noshing on bagels. After everyone arrived and it was designated who'd participated, then they had to sign waivers and read the rules. Then they geared up in camouflage jumpsuits, put on helmets with visors and loaded up their paintball weapons. And finally the Red and Blue teams were chosen. Angela was captain of the Red Team and me in charge of the Blue Team [seen below].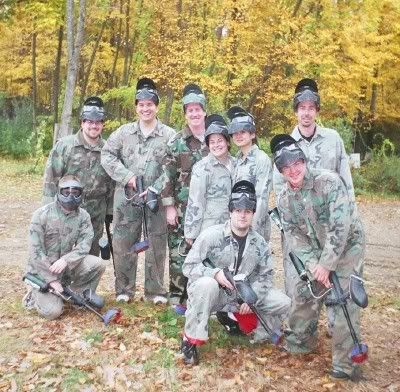 I thought for sure I had the winning team, but in the long run they lost all but one game. Over the course of 4 hours or so they engaged in 7 to 8 games in several fenced in areas. Those who observed, like me, couldn't really see them "in action', but we sure could hear them. Lots of laughing, yelling, raised voices and even some confusion. You could also hear when they were all firing their paintball weapons at once. What a racket! Around 12:30pm or so, we all took a 30 minute break for a pizza lunch and then several more games. Wrapped up the day around 2:45pm and called it quits. Dee and I drove really fast back to the Bronx and I was on the #2 train before 4pm.
I headed down to the E&Y office for an hour before walking over to the monthly two hour NYDoP core team meeting. Those in attendance were Joe, Dawn, Kevin, Liz, Carol, Marianne and Eileen. We covered many topics under reports and old/new business. I even brought up some topics under "new business", such as creating new items with DoP logo to sell at events/tabling. This idea was warmly received and to be seriously considered, plus brainstorm in early 2007. I also suggested we post on the DoP forum and list serve a "peace related & spiritual reading" section. Even though the suggestion was temporarily shelved, I'll still go ahead with it and post items on forum/listserve. Carol has already sent suggestions and I have a few of my own. I'll also post them here for Duchess Blog viewers to view. Any suggestions on peace or spiritual reading material please send me an email. Many thanks!
Sunday, October 22nd, I traveled to Long Island University in central Brooklyn in my friend Cielito's car and to participate in the 4th annual Brooklyn Peace Fair. Cielito is connected with Share International [as is my friend Linda] and I'm connected with the Dept of Peace campaign. Carol and Liz [plus Rob & their two sons] got there early and found us a primo spot near the doorway. This new location is vastly different from the old location. [The indoor architecture was fascinating and very much 1920s style.] First of all, the people tabling and vendors were in one building and the lectures, music, speakers and other items were across the street in another building. I never did get over there. Hopefully BPFP [Brooklyn Parents for Peace] will iron out the bugs and things will improve for next year. Anyhow, we finished setting up the table and I brought along many of my bead style earrings to sell. [End of day I only sold 7 and made $70, half of which goes to NYDoP.] Checked out the many folks tabling, bought some items, had several fascinating conversations [one chap looked just like late British actor Jeremy Brett] and even had a brief conversation with Congressman Major Owens. Marianne also joined us at the fair. At one point both Marianne and Carol were being interviewed by students from the university. I also ran into some acquaintances that I knew via the Kucinich 2004 campaign and other activism/protest projects. Sort of like being at a mini reunion, but for peace, not ones graduating class.
PEACE QUOTE OF THE DAY
...
Human Beings, indeed all sentient beings, have the right to pursue happiness and live in peace and freedom
The XIVth Dalai Lama

On Tuesday, October 24th, I took a two hour class at work on how to manage ones personal finances. It was fascinating, informative and hopefully will be useful for my budgeting.
COLORADO COUPLE WIN BATTLE TO KEEP HOLIDAY PEACE WREATH ON HOME
Amy Goodman, Democracy Now on WBAI
http://www.democracynow.org/article.pl?sid=06/12/01/1456208