PERSONAL NEWS #111
On Sunday, November 19th, I utilized car service to Park Slope and attend my first Peace Circle gathering. A fellow NYDoP member told me and other core team members about this peace/meditation circle. I was very much looking forward to experiencing it for myself. It was held at Mary's home in a lovely brownstone and her apartment was on 1st floor. Besides Mary and I, there were three others who attended [ie: Gilli, Will & Sharon]. Bagels, tea, juice and water were provided before we sat down to a 20 minute meditation. This was followed, eyes still closed, with reflections or envisioning what we'd like to see in the world. Always visions of peace, harmony, brotherhood, community, spirituality and other heartfelt wishes and then the last part of "circle" were sharing our thoughts on issues or conflicts. Each person was allowed "floor space" and the others listened in respectful silence & togetherness. As this was the Sunday before Thanksgiving, we all had thoughts/reflections on dealing with the "issues" surrounding it. After Mary closed the circle for the day she asked me to briefly speak about NYDoP and the upcoming City Council press conference. Overall, I found the circle experience to be a good form of centering for me, even for that time frame. [These things so take time and one cannot expect major transformation overnight. It's a long work in progress.] With more peace/meditation circles I hope to feel calmer, focused and centered.
Tuesday, November 21st, participated in another NYDoP [New Yorkers for a Dept of Peace -
http://www.nyc-dop.com/
] conference call in the evening, regarding the upcoming City Hall press conference, which is set for November 29th. I'll be faxing more press releases to media [ie: newspapers, radio & TV.
JOHN EDWARDS RUNS AGAIN FOR THE PRESIDENCY

Former Senator who ran in 2004 is bidding for Democratic Nomination

http://www.msnbc.msn.com/id/16377918/
Find me on MySpace and be my friend!
SEAN BEAN DISCUSSES "THE HITCHER"
Rebecca Murry, About Movies
http://movies.about.com/od/thehitcher/a/hitchersb122606.htm
On November 23rd, Thanksgiving Day, via City Harvest I volunteered at Cluster House, a women's shelter in Manhattan. [Back in October I joined and went for volunteer orientation.] Day before I spoke with Kristina at City Harvest for time/location/contact details, and also Project Manager at Cluster House. I arrived shortly before 1pm and made my way down to the dining room. Some of the "residents" kindly showed me the way. Met some of the other volunteers and we started by setting up the tables for Turkey dinner. Then we had a 30 minute break, were we talked about topics, offered to help the two cooks in kitchen and met with 2 other volunteers. Jerry and his daughter had been helping out at Cluster House every Thanksgiving for last seven years. Jerry filled us other gals on the "procedure". Basically, we're the waitresses to the residents. Shortly before 2pm the women who reside at the shelter slowly came down for dinner. [Some were dressed in nice clothing and others had on sweats. They all behaved nicely; chatty and so happy we volunteers were there.] We took their requests, which were circled on Xerox paper, and brought to the kitchen. We brought the women fruit punch, green salad and potato salad. When Jerry finished preparing the requests, we'd serve turkey dinner to the residents. This was followed by eggnog and dessert. More residents showed up and the place filled up quickly. I enjoyed being their waitress, engaged in conversation and poured on the charm, which they loved. By the time the last resident left the dining hall and we'd cleaned up, it was going on 3:15pm. Whenever I've done volunteer work in the past it feels good to help others. A heartfelt thank you and warm, sincere smile is a wonderful gift. I was honored and blessed in being a recipient of this gift. Doing this type of volunteering year after year, I know, will bring deep meaning and fulfillment.
Afterwards, I headed for the subway and made my way back to Brooklyn near Crown Heights. My friend BC had called me the day before and wondered if I was free on Turkey Day. Absolutely! After 3pm I can join her family and she said great. Arrived around 4:15pm and a few minutes before BC's family sat down to turkey dinner. Actually, I wasn't the last to arrive, that honor was bestowed on BC's oldest son Harry. Those in attendance were BC, Andrew [fabulous meal mate], Harry, Amelia, Josh, little 9 month old Alexander [photo below], myself and BC's Mom Jean.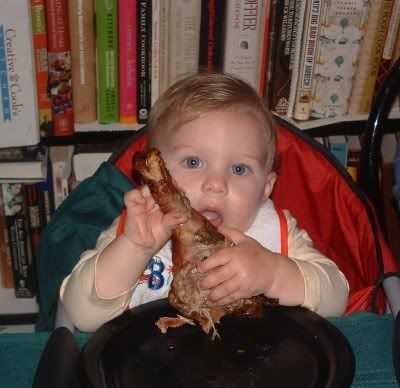 Their dog Molly joined us in the dining room. The food was absolutely wonderful, vegetarian stuffing with roasted chestnuts, tender juicy turkey, wine and lethal pies for dessert with homemade whipped cream. Huge sigh! [I suffered the next day with intestinal troubles. Just like the beginning of the month. Pass the Pepto Bismal!] Conversation was on numerous topics and occasionally briefly touching on politics. After BC's mother left for another commitment and little Alexander was put down for his nap, we played Star Wars Trivial Pursuit for several hours. The kids did very well and I was abit embarrassed on how little I remembered the original three films. [Maybe my thought process was a wee bit befuddled by good food & wine. Or maybe I just need to rewatch those three films.] Despite all that, we all had a fun time and many laughs. Shortly after 9pm, Andrew helped me get car service to take me home. Not easy, as the weather had turned cold and wet. Overall, I must say, this Thanksgiving Day was one of the best in a long time.
Early next morning, November 24th, I boarded the Trailways bus for upstate NY to visit my parents during remainder of Thanksgiving weekend. Traffic wasn't too bad and Dad was waiting for me at the bus terminal. After the cold, wet Turkey Day the rest of the weekend was nice and sunny. Caught up on relaxing, holiday shopping, reading, watching Cable TV, hair salon, helped my parents decorate the house for Xmas and shopping at "Over the Moon" bead store.
On Monday, November 27th, I participated in a final conference call [12noon] with NYDoP members regarding the City Hall press conference. The final prep stages and all are going well. That evening [5:30pm -9pm], along with others [ie: 20+] from the peace activist community; I attended a fascinating, inspiring, educational lecture and discussion on worldwide peace building by Kai Brand-Jacobsen. Sadly, I didn't take notes, as I was so engrossed in Kai's discussion and interaction with participants. Sometime in 2007 I hope to take his 3-day seminar/training on peace building.
QUOTE OF THE DAY
…
No one can make you feel inferior, without your permission
.
Eleanor Roosevelt
Tell Congress: Stop Funding War - Start Investigations
The peace movement has been right since before the war began, and should be listened to now about how to end this war and prevent future ones. The peace movement includes the majority of Americans, who have told pollsters they oppose the war and who voted accordingly on Nov. 7, 2006. We have two main requests, and we have majority opinion and a grassroots movement behind them:
1. No More Funding for the Iraq War
2. Investigate the Case Made for This War and the Way it Has Been Conducted
Email your Congress Member and Senators Now!
http://www.democrats.com/peoplesemailnetwork/90
Wednesday, November 29th, I took a vacation day from work so as to concentrate on "New Yorkers for a Dept of Peace" and the City Council press conference at City Hall. I arrived at City Hall at 10:45am, went through security check and hooked up with other members of our group. Weather cooperated that day with mild temps, though overcast, and we were thankful. I was happy to see that we had press representatives from WBAI, WFUV and Channel 9 News. WooHoo! Warmly greeted NYDoP members who were able to attend and listen to Dot Maver give a last minute prep talk. [Dot Maver, The Peace Alliance, was in town for a few days.] Joe and I positioned ourselves on the steps holding our NYDoP banner. So it would be a backdrop for the speakers during the press conference. As soon as City Councilmember Mendez arrived with her secretary the press conference started at 11am. The highlight for me was when City Councilmember Jackson arrived unexpectedly and announced in a strong, clear tone that "Peace is in; violence is out. If you're talking about peace, count me in". We all cheered and applauded … even more so after Jackson's impromptu speech.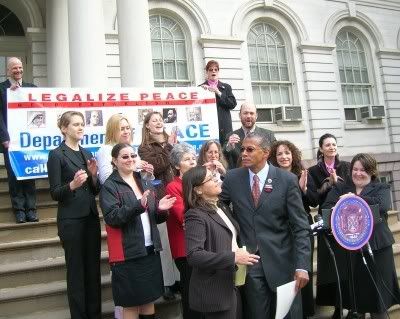 [Press releases on the event can be found at
http://www.nyc-dop.com/
. At the forefront in photo above is City Councilmember's Mendez & Jackson.]
After the speeches were completed was the Q&A segment by the press. Most of the questions came from press representative at WBAI to Dot Maver on DoP budgeting. Overall we felt the press conference a success and far better than our first one in Sept 2005. Afterwards, several of us [ie: Ellen, Karen, Liz, Kevin, Joe, Marianne, Carol and I] walked over to Starbucks for refreshment, discuss the press conference and work on new press release. While there Kevin received a call on his cell phone from METRO newspaper. This caused much excitement amongst us, as this free periodical is widely read by many New Yorkers. From there we split up into groups … I joined Ellen and Kevin in observing a City Council session in City Hall from 1pm to 4pm. This was my first time inside City Hall and it's like some buildings in DC, but on a smaller scale. We eventually found our way to the upper gallery, so as to observe the proceedings below us. We conversed amongst ourselves on numerous topics until the City Council session started at 2:30pm. The city council meeting agenda proceeded as follows … roll call, invocation, adoption of minutes, petitions, reports, DoP Resolution 0627-2006 on agenda and remainder of session was heated discussion on the recent Sean Bell shooting/murder in Queens. Afterwards Ellen and I left Kevin to find a good health food store to purchase items, as we were both very hungry. Then we jumped on the subway and headed uptown to Carol's apartment to help with final phase of holiday fundraiser mailing. Marianne was also at Carol's place and working on a follow-up press release. We were listening to WFUV radio and at 5:35pm they broadcast a report on our press conference. We were ecstatic and jumping for joy over the well done 1 minute segment. Ellen left around 6pm and I stayed on to finish the mailing. Headed home around 7pm and that evening, on Channel 9 News around 10:16pm, our press conference was given a 30 second time slot. Another ecstatic moment! I was even more thrilled as Joe and I were shown twice holding the DoP banner. WooHoo! Fabulous exciting day!
RECENT MESSAGE FROM KEVIN MARTIN AT "PEACE ACTION"

"Peace on Earth" is a wonderful saying often heard this time of year, one I wish was expressed (and acted upon) year-round. I love hearing it, because peace is one of the highest ideals for humanity, and it is of course the guiding bedrock principle of our work at Peace Action. Yet nearly every time I hear it my joy is mixed with frustration, as I wonder if the contradiction between that simple, genuine sentiment and the foreign policies of our government angers others as much as it does me. For those who work for peace, like you, I know it can be hard to avoid such conflicting feelings at this time of year.
I have been a peace activist for over 20 years now, and my work is of course mostly focused on changing our government's policies to be more peaceful, less violent, more cooperative, and more just, more in keeping with human rights and our highest human ideals. Those are the themes and goals you will hear us come back to again and again in 2007 as we work to end the war in Iraq, to bring peace to the Middle East, or to prevent our government's attempts to build new nuclear weapons.
But I also try hard to challenge myself, every single day, to become ever more peaceful, non-violent, loving, kind, patient (especially with my children!) and understanding. It is perhaps best embodied in the line from an old religious song "Let there be peace on Earth, and let it begin with me." The opportunity for peace exists within each of us, in every moment. So, even with the challenges we must confront in the world today, please accept my best wishes that you and your loved ones will enjoy a loving, peaceful holiday season whether you celebrate Christmas, Hanukkah, Kwanzaa, Winter Solstice, New Year's or just the opportunity to give thanks for your blessings.
KUCINICH RUNS AGAIN, ON ONE BIG ISSUE: BRING THE TROOPS HOME

Daniel Sturm, Athens News Contributor [OH]
http://www.athensnews.com/issue/article.php3?story_id=26930
Kucinich Says Kerry Should Have Listened To Him In 2004

James Pindell, Boston Globe
http://www.boston.com/news/local/politics/primarysource/2006/12/kucinich_says_k_1.html
BUMPER STICKER QUOTE ... Bush Doesn't Care About White People, Either