PERSONAL NEWS #158

[Duchess Note – My apologies to all with regards to my tardiness in getting "personal news" out in a more timely manner. Tis the season to be busy … HoHoHo … the following is a condensed version of my "news". In the meantime, have a wonderful holiday season and a Happy New Year. Peace, love and joy to all.]

Saturday evening, November 15th, I joined several other NE Tolkien Society members [ie: Anthony, Jessica, Mary, Kathy and Tim] for a Moot at Radegast Beer Hall in Williamsburg. We had a fun time drinking, noshing and touching on a variety of topics.
Next morning, November 16th, I joined other members of TGTSNBN for the second Quidditch match of the season, which was difficult at times due to some muddy areas on the pitch. [See photo below.....] Despite that, two games were successfully played, and then afterwards we had a tasty brunch at TOAST.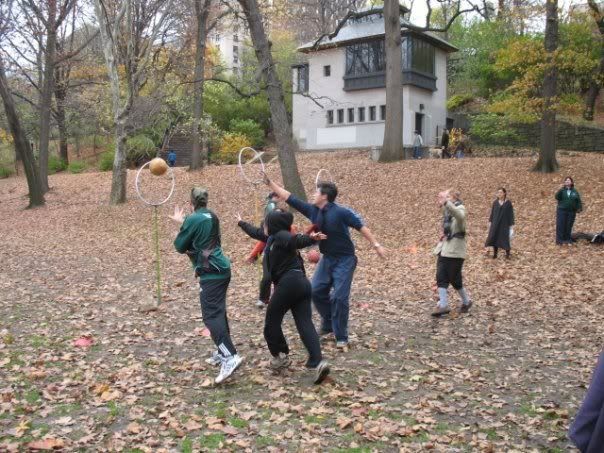 On Tuesday, November 18th, I attended the monthly NYDoP board and core team meeting. Discussion centered on what transpired at the Inwood Retreat weekend and developments with City Council resolution.
Friday evening, November 21st, Jackie came over with Michelle [cat] for dinner and we watched "The Queen" on DVD. Great film and I highly recommend it to all. Helen Mirren is brilliant as Queen Elizabeth II.
Tuesday evening, November 25th, I participated in the NYDoP CCR Committee conference call as a follow-up to the call on November 11th, plus further discussion on PowerPoint presentation for future Community Board meetings.
Wednesday evening, November 26th, I volunteered with City Harvest at the Union Square farmers market.
On Thanksgiving Day, November 27th, I volunteered with Project Find at St Paul's Church on West 60th Street. We worked in groups of three to bring hot Thanksgiving meals, plus bring goodie bags, to homebound elderly in the NYC area. This year I was teamed up with Joelyn and Jeannie. Also saw Kevin and Pearl, whom I teamed up with last year, and we caught up briefly on news.
November 28th through 30th … Spent the rest of Thanksgiving weekend with my parents and brother in upstate NY. Did some shopping for gifts, beads, decorate front porch, watched some movies on cable TV, meal at relatives home, and had a hair salon appointment.
Tuesday evening, December 2nd, I joined Cielito and a few of her friends [ie: Judy, Maggie & Roland] for an evening of drinks, appetizers and fun conversation at the Ritz Carlton near Battery Park. Cielito was celebrating her 20 years in NYC and thankful for those in her life.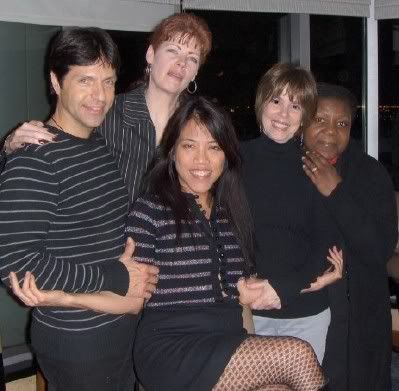 [Cielito's Gathering with Roland, Duchess, Judy and Maggie surrounding Ms C]

Friday evening, December 5th, I left work at 5pm and headed up to Holiday Inn on West 57th Street for the annual Smiley's yarn sale. Afterwards I jumped on the #1 subway and headed down to West 18th Street. I walked over to "Books of Wonder" store for the "Tales of Beedle the Bard" podcast, which was hosted by members from Scholastic and Leaky Cauldron.
Next day, December 6th, I joined my friend Sheila at Grand Central Station for an afternoon of lunch and shopping at several holiday bazaars. We had a delightful time and caught up on news. Love these holiday bazaars and the diverse vendors with all their terrific wares. I was especially attracted to the jewelry and spa items.
Sunday, December 7th, I participated in a conference call with other NYDoP board members on leftover topics from our inspiring Inwood Retreat.
On Tuesday, December 9th, several EY Insurance Tax staff members volunteered at St Luke's Lutheran church "soup kitchen" in the Broadway district of Manhattan. That evening I participated in the NYDoP CCR committee conference call regarding continued work on DoP PowerPoint presentation and upcoming Community Board meetings.
Friday, December 12th, I volunteered with City Harvest at Union Square farmers market. Afterwards I checked out the booths at the holiday arts and crafts bazaar, plus had some delicious hot chocolate at NuNu's.
Saturday evening, December 13th, I was invited to a lecture by Gili Chupak at Park Slope food co-op. His talk was on the basics of "Field Theory Principles". Gili and I know each other via the Park Slope "peace meditation group" gatherings back in 2006/2007.
Next day, December 14th, I attended Joe & Marie's annual holiday luncheon at a terrific Asian restaurant in midtown Manhattan. Food is delicious, plus I sat with Maria and Kelly [life partners] to catch up on news/gossip from past year. They had some exciting news … they are planning on having a baby. WooHoo … peace baby!
Tuesday evening, December 16th, was NYDoP's annual holiday dinner party and this year we had it at "Village Natural" down in Greenwich Village. Due to the incremental weather not all attendees could make it, but those of us that braved the elements had a good time. We even exchanged gifts with a "secret Santa".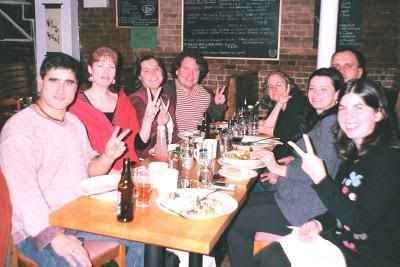 Wednesday evening, December 17th, I attended a Community Board meeting for district #8 in Manhattan with Howard and Marianne. Howard gave a 3-minute Dept of Peace pitch during the "public forum" segment and we handed out copies of our presentation. Overall it was okay and we need to improve our "pitch", plus streamline the presentation. Afterwards the three of us went to a restaurant called SPICE for a meal and drinks, as well as to discuss the meeting and other current topics of the moment.
Thursday evening, December 18th, was the annual EY FSO holiday party at "Tavern on the Green". The Insurance Tax department sat at a large, round table towards the back and near the windows overlooking part of Central Park. We were near one of the bars and buffets, plus far enough from the dance floor so the noise factor wouldn't disrupt of flow of conversation. Overall everyone seemed to have a good time and I took some pix of the holiday décor.
[l to r - Dee, Duchess & Angela celebrating at 'Tavern on the Green']