PERSONAL NEWS #161
Sunday, February 22nd, afternoon I headed into the city to attend a panel discussion at All Souls Church called "Current Climate in Iran". There were four speakers and they were part of a non-violent delegation to Iran in Nov/Dec 2008. Some of their commentary … "Iranians want peace, also the world see the U.S. differently then we see the U.S. and we are not faithfully represented by our respective governments". The Peace Task Force was hosting this event, and the discussions, along with slideshow, were very interesting and informative. To learn more, go to
http://www.4peace.net/
Monday, February 23rd, evening I visited my friend Larry and treated him to Chinese take-out while he worked on my tax return for 2008. As always, I owe the friggin Federal government [worthless, greedy buggers] a few buckos, and I'll get some funds back from NY State.
Tuesday, February 24th, evening I participated in the NYDoP CCR Committee conference call and our main focus was prep work for upcoming Community Board meetings in Manhattan.
Wednesday, February 25th, I worked most of the day at AIG copying tax returns. Today is also the first day of LENT; I gave up chocolate, bread, bagels and muffins until Easter Sunday.
Thursday, February 26th, evening I joined several members of the Park Slope Knit meetup at Sweet Melissa's and had an enjoyable time.
Sunday, March 1st, I attended a fascinating and interesting lecture by Marc Sussman at the Community Church on East 35th Street. He also has a radio program on Air America on finances. He talked about emotional and spiritual recovery, and that we live in a nation of addicts. Said we are in an economic crisis, a global depression, worse than the 1930s. Plus, he also talked about "The CA Lesson", renewable energy, water and geothermal.
Sunday, March 8th, I attended CodePinks "International Women's Day" film screening [ie: Afghan Women: A History of Struggle], panel discussion and craft sale. Those on the panel were Kathleen Foster [director of the documentary we viewed], Fahima Vorgetts, and Fawzia Afzal-Khan. The latter writes for CounterPunch online. It mostly centered on the women and children of Afghanistan from the 1950s to present. There was mention of BANU Foundation and the following website
http://www.womenforafghanwomen.org/
I ran into Stephanie and Alice, both of whom worked with me on the 2007/2008 Kucinich presidential campaign.
Monday, March 9th, I worked all day at AIG helping with copying tax returns. Afterwards I had an appointment for treatment with my foot doctor.
Thursday, March 12th, was a busy day, not only at work, but afterwards at a Community Board meeting in Manhattan that I attended with Kevin and Joe. Went very well and we talked with Councilmember Mendez, as well as hand out all of our flyers. Afterwards the three of us went out for drinks and dinner; plus discuss upcoming peace conference, the CB meeting and current events.
Friday, March 13th, I took ½ a personal day to take care of things around Manhattan and Brooklyn.
Sunday, March 15th, I was invited by my friend Cielito to participate in a free event at Matrix on Hudson Street. Matrix was trying out new hair care products on ladies who dye their hair. Afterwards I had a late lunch with Cielito at a funky pizza place in Greenwich Village.
Tuesday, March 17th, I participated in the NYDoP "working" meeting at the HealthyBody location. Kevin, Dawn and I presided over it. We had three new people [ie: Chris, Nick & James] attending, who were interested in DoP. Afterwards Kevin and I had a drink, plus nosh on French fries, at an Irish pub in the neighborhood. St Patrick's Day was still be "celebrated" in noisy, full swing.
Thursday afternoon, March 19th, I joined Stephanie and many other anti-war protests at Union Square around 1pm. This is the sixth anniversary of the US invasion and occupation of Iraq. Sadly, not much of a turnout due to the "wet" weather, but those of us that were there peacefully protested with enthusiasm.
March 20th through 22nd – 5th Annual Peace Conference in Washington DC … a full report on this weekend will be posted soon on the Duchess blog, along with photos.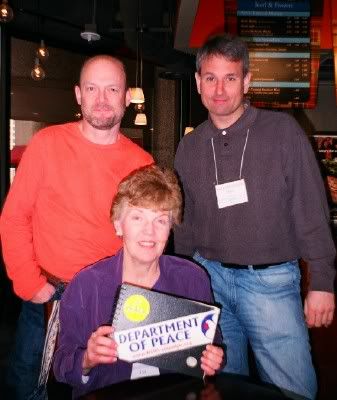 [Kevin, Pat and Chris during lunch at the 5th Annual Peace Conference]

[Marie, Joe, Carol & Karen heading back to NYC from DC Peace Conference]

Wednesday, March 25th, I headed out to Coney Island hospital and joined Howard for a Community Board meeting. This area is part of Councilmember Recchia's district and his is chairman of the Cultural Affairs committee where Resolution 627 is waiting for a hearing. I got home to watch last 45 minutes of LOST on the telly.
Thursday, March 26th, I took ½ a personal day from work to prep for Tolkien Reading Day, which was being held at my humble abode in Brooklyn.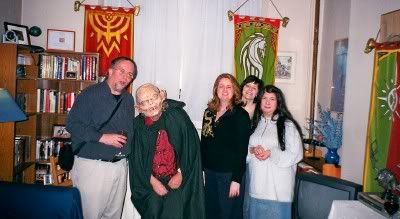 [Some members of the NE Tolkien Society at recent Tolkien Reading Day]