PERSONAL NEWS #106

On Friday, Sept 1st, my office was closed for the long Labor Day holiday weekend. Hurray! I had many errands and chores to catch up on throughout the day. In the middle of all that I had a workout session at the gym with my Personal Trainer [Marie], and she put me through the paces. Wish my funds weren't so tight at times, so that I can have two sessions a month instead of one. In the long run a good workout benefits ones body, mind and spirit.
Next day [Sept 2nd] I headed upstate NY to visit my parents for the long, relaxing holiday weekend. Did some shopping to boost my bead supply at a terrific shop in Cambridge called "Over the Moon". Both Heather and Sara are wonderful, talented and so helpful. I love their funky, eclectic shop. Check out their website some time at
http://www.overthemoonbeads.com/
The only nice weather that whole weekend was Sunday morning with sunshine. Rest of the time it was overcast, sometimes cool and occasionally rainy. Borrowed Dad's car at one point so Mom and I could toodle off to Saratoga for lunch/shopping. Caught up on viewing some Cable TV and got to watch parts 1 & 2 of "Sharpe's Challenge", which I enjoyed very much. Sean Bean is brilliant as Sharpe. Did some reading, hair salon, creating of bead style earrings and occasionally took care of neighbor's dog. Don't know the dog's name, but he is friendly and lonely for company. Idiot neighbor was hardly around and I felt so bad for the dog. Some people shouldn't own pets. One evening I drove to "down town" Cambridge to place Tasini campaign flyers on cars and in mailboxes. Accidentally tried to access someone's car and realized it wasn't Dads car. Duh! Silly me. . . .
Tuesday, Sept 5th, I participated in the monthly national Dept of Peace conference call. Matthew Albrecht was moderator and guest speaker on the call was Byron Katie. Who is the author of a new book called "Loving What Is". She talked about "The Work", which basically entails four questions and a way of clearing ones mind. How to apply this method in regards to getting people out to vote. Whether it's for the November election or getting congress people to co-sponsor the Dept of Peace legislation.
Several quotes by Byron Katie:

* The journey is everything
* The truth never suffers from an honest discernment
* Fear stops a person from living their hearts desire

To learn more about "The Work" and Byron Katie, go to
http://www.thework.org/
The following evening, Sept 6th, I attended the monthly DFNYC meetup in northern Brooklyn. Arrived shortly after 7pm to find Ben sitting in usual booth and within 5 minutes or so two others joined us.
[Thank you Ben in sharing the website link
http://www.technorati.com/
] Ben told us that a friend of the Tavern owner is progressive radio personality and former Air America radio talk show host, Mike Malloy. And that he would be stopping by to briefly chat with our group, and also hangout at the Tavern. This was exciting news, as I used to listen to his Air America program all the time. LOVED HIS SHOW! Then the "big wig" buggers who run Air America took Malloy off the radio back in March and brought on "Satellite Sisters". Oh my god, I can't stand those syrupy broads. Barf! Then Malloy's online show was cancelled the week before. When I got home later on that evening I sent an email to him via his website at
http://www.mikemalloy.com/
It was a pleasure meeting Malloy that evening and briefly talking about the upcoming NY primary. Rest of the meetup was spent discussing the different progressives running in the NY primary.
Thursday, Sept 7th, I had a business lunch meeting [ie: Jacks Restaurant] with one of my bosses [Bill] to discuss my expanded admin secretarial duties over next six months.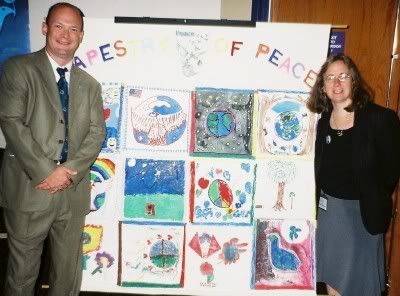 [Kevin & Carol are the founding members of New Yorkers for a Dept of Peace campaign. They are posing with the "Tapestry of Peace" quilt (designed by children) at Sept 11th Gandhi event in lower Manhattan.]
Next day, Sept 8th, I attended the final NYDoP marketing/PR meeting for our upcoming Gandhi/Sept 11th event at Norma's office. We discussed and worked on our last minute to-do list, along with assignments, such as "sign up sheets" for press and people interested in NYDoP. [Over past week or so I'd been faxing out press releases and media alerts to a large list.] I volunteered to help run our display table and sell DoP items at the event. Also, work has been very busy, as I was covering for another secretary who's been out on vacation since August 29th. Kind of made things abit hectic, even extra overtime and trying to keep it all from going nutty. Mon dieu!
BUMPER STICKER QUOTE OF THE DAY
...
I'D RATHER HAVE A PRESIDENT WHO SCREWED HIS INTERN THAN ONE WHO SCREWED HIS COUNTRY

On Saturday, Sept 9th, I met up with Marianne, Karen and Randy [volunteer] in Times Square to distribute postcards for our Gandhi event. I arrived around 10am outside the Toys-R-Us and located Marianne, when all of a sudden we see 5 scantily clad handsome men running down 7th Avenue tossing a rugby ball to each other. Oh la la! This process was performed several times, as they were being filmed for a commercial.
Marianne and I, along with other women on the sidewalk, were greatly enjoying the view of 5 handsome men wearing what appeared to be swimwear. And nothing else … big sigh!
On the back of their swimwear it said "Budgy Smuggler"
http://www.budgysmuggler.com.au/
I was most annoyed with myself in not having my camera with me that day. Damn! Karen joined us shortly after all this delightful viewing and then Randy showed up. We discussed a strategy in getting out the postcards and then split into two groups. Randy joined me and we headed towards 8th Avenue to canvas the shops, phone booths and the free periodical [ie: Metro or AM New York] stands. We did very well and got rid of at least 300+ postcards before calling it quits. I had the small cart with box of postcards, which I took home with me. As I was getting off the crowded "7" subway to switch for another subway, a nice, elderly gent near the door said "make way for the Dept of Peace lady". It was like the parting of the Red Sea, only on a smaller scale, and folk smiling at me. I was abit surprised and said many smiling "thank you's" as I exited the subway. You may be wondering how they knew about Dept of Peace [DoP], well, I was dressed in blue that day and had on my DoP t-shirt. The next afternoon I took many of those postcards and did some canvassing of the upper Westside with them. Same procedure as the day before … shops, phone booths and periodical stands. Weather wasn't as nice and before heading home I stopped into H&H Bagels for a yummy snack. Ahhhhhh … best bagels in town.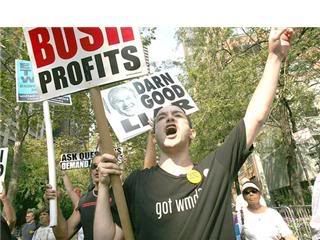 In photo above, my fellow NYC Kucitizen, Thomas G, pumping that peace sign in the direction of the UN building and chanting … AMERICANS DON'T WANT YOUR WAR!
And the crowd responds … WHAT THE HELL ARE THEY DYING FOR?!? (Or what the hell are we fighting / killing for?!?) The photo below shows more protestors near UN when Bushit was in NYC week of Sept 18th spinning more lies and propaganda.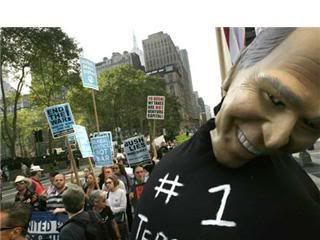 [Note – Above AP photos by Bebeto Matthews]