SEPT 13TH PRESS RELEASE FROM THE NEW YORKERS FOR A DEPT OF PEACE - NEW YORKERS TRANSFORM SEPTEMBER 11 INTO A MESSAGE OF HOPE AND HEALING
New York, NY, September 13, 2006. -- On September 11, 2006, New Yorkers and Americans in 20 states marked the 100 year anniversary of Gandhi's decision to use nonviolence. New Yorkers for a Department of Peace (NY-DOP), in cooperation with Sony Pictures, organized a one-day-only theatrical showing of the movie Gandhi. Movie screenings, held at the Regal Cinema near the World Trade Center site and other theaters across the country, included the debut of a short film, Satyagraha. The title is the name that Gandhi chose for his nonviolent campaign and translates as "the pursuit of truth." The film focuses on the power of nonviolence and features Arun Gandhi, the grandson of Mohandas Gandhi, and George Houser, a civil rights activist and founding member of CORE, the Congress of Racial Equality.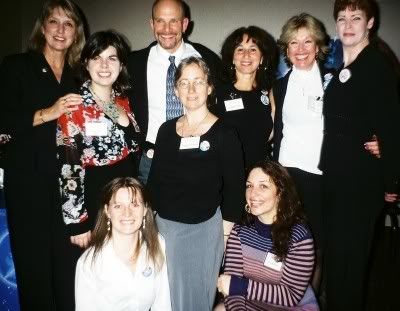 [Note - Some of the amazing members of NYDoP at "100 Years of Nonviolence" event on Sept 11th & yours truly is standing at right in black suit]
To kick off the screenings, NY-DOP organized a panel discussion at the Regal Cinema, which according to Julianne Nicholson (Law and Order) was "poignant and moving." Anthony Aversano, who lost his father on September 11, 2001 quoted Gandhi saying, "An eye for an eye only makes the whole world blind." JoJo Brim, an executive at Warner Music Group, challenged the audience to "make peace sexy" through entertainment. Kamran Elahian explained how the Gandhi Project uses the movie GANDHI, dubbed in Arabic, to educate Palestinians on the power of nonviolence. Monica Willard shared that the United Nations had originally slated September 11, 2001 as the International Day of Peace. Since then, however, the UN has moved it to September 21 and marks the day annually. Marie Ukeye, a Rwandan genocide survivor, concluded by reflecting on the fact that humans are very "successful" at organizing violence and considered how different the world would be if all that energy were focused on organizing peace.
"I forgot how inspiring the movie Gandhi is, especially on the big screen," remarked Blake McGee, a student at Columbia University's School of Public Health. "After watching it, I really feel called to go out and take action. I am glad that I spent September 11 focusing on such a hopeful message."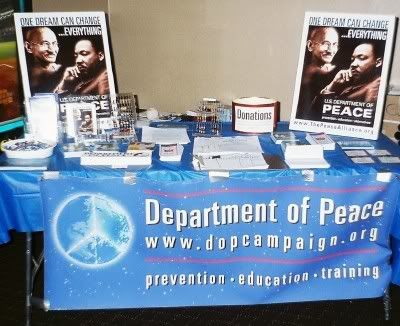 All proceeds for the Gandhi screenings and other 100-year anniversary activities went to NY-DOP. NY-DOP shares the same goals as The Peace Alliance, that is working to establish a cabinet-level, federally-funded, United States Department of Peace that will promote nonviolent conflict resolution including: prevention, education and training both domestically and internationally. Visit the NY-DOP web site at
http://www.nyc-dop.com/
QUOTE OF THE DAY
...
When the power of love overcomes the love of power we will know peace
...
Jimi Hendrix

TAKING STEPS TO CREATE A PEACE DEPARTMENT
April Jimenez / Long Island Press
http://www.longislandpress.com/?cp=162&show=article&a_id=9703
Peace is Practical by Linda Zoblotsky

Posted on OpEdNews 9/12/2006
I live in Plano, Texas, an affluent mostly Republican suburb, bordering Dallas. My Republican friends and neighbors tell me that it is our patriotic duty to fly the flag on September 11th. Ever since that Tuesday morning when the entire world learned of the attacks, displays of American flags and "United We Stand" stickers and posters populate our SUVs and store windows.
On the 5th anniversary of the devastation, President Bush stated that over a million men and women volunteered for military service. Over 100,000 people have died in the "war on terror". Over 50,000 U.S. service men and women have lost their limbs and their mental and emotional state of well-being. As the Pentagon Budget keeps growing, valuable social services that American citizens depend on for their security are of lower priority to our elected officials, than the "war on terror" or the "war on Islamic fascism". During the 20th Century, over 100 million people lost their lives to war -- most of whom were non-combatants.
While the Bush administration has promised to keep Americans safe, the world saw people in The Gulf Coast starving last summer and struggling for their lives as a photo of President Bush looking down on the storm damage from Air Force One was published.
After all is said and done about what is bad about the Bush administration and the U.S government, there is a light at the end of the tunnel. A vital force in the U.S. Congress lead by Congressman Dennis Kucinich (D-Ohio), and behind this force in Congress, citizens across the nation volunteer. This outstanding effort to do something to stop endless war and violence is called The Campaign for a U.S. Department of Peace, (House Resolution 3760 and Senate 1756).
http://www.thepeacealliance.org/
There are currently 75 congressional co-sponsors of this legislation in the House and 2 in the Senate. At 2% of the cost it takes to finance the Pentagon budget, A U.S. Department of Peace (DOP) would research, articulate and facilitate non-violent efforts to address both domestic and international conflict. The original idea of a Peace Department in the United States dates back to the administration of George Washington. During The Cold War, Eighty-five bills calling for a Department of Peace were introduced in the House or the Senate. Between 1990 and 2003 over 1,700 schools in Ohio participated in a conflict management program. Evaluations of this program show a decline in the number of conflict-related behaviors leading to suspension and expulsion. 90% of teachers participating in the program said their schools were safer.
http://disputeresolution.ohio.gov/schools/evaluatingcrep.htm
Peace on earth is practical. The 2005 Missile Defense budget was 10 billion dollars for a system that is not operational. The Divine Strake test is possibly scheduled in New Mexico for 2007. Supporters of DOP ask whether our priorities should be to build more nuclear weapons, which could harm our own citizens, or perhaps we should consider how innocent people are susceptible to a nuclear attack or a theft of nuclear materials?
Domestic peace at home is practical. The Bush administration has called for an amendment protecting the institution of marriage from gay people who love each other and want to get married. The DOP will develop policies and allocate resources to effectively reduce the levels of domestic and gang violence, child abuse, and various other forms of societal discord.
DOP activist groups exist in all 50 states and over 280 Congressional districts. September 11th stands out not only for the 2001attacks, but also as the 100-year anniversary of Satyagraha, the modern nonviolent movement launched by Mahatma Gandhi. September 21st marks the fifth anniversary of the International Day of Peace, established by the United Nations in 2001. In recognition of these events, people in cities and towns across the nation are staging local "Walks for Peace." Organizers of these events, planned in collaboration with the Peace Alliance, say these walkathons will help raise awareness of legislation (HR 3760 and S. 1756) currently in the House and Senate to create a cabinet-level U.S. Department of Peace and Nonviolence.
For information about local walks, please visit:
http://www.thepeacealliance.org/content/view/185/147/
ELECTION NIGHT STATEMENT FROM JONATHAN TASINI – NY STATE SENATE CAMPAIGN
NEW YORK, NY - At 10:30 pm on Election Day, Senate Candidate Jonathan Tasini conceded his challenge to Senator Clinton to a crowd of supporters at McFadden's Bar and Restaurant in Midtown Manhattan. Tasini released the following statement:
"People throughout this campaign have come up to me and said that they were so grateful they had a choice – that they could express their opposition to this illegal and immoral war, their frustration that in this county 40 million people don't have health care, and their anger that corporations are waging class warfare against their workers. I am proud that we have given them that choice. We knew when we got into this race what we would face – a political machine that believes only in money, that believes only in the accumulation of power, that does not know principles, and that would do anything to win. But what we have is the belief that we can change our country. We are working to create a powerful progressive movement that stands up for the values that we believe in and in the end I believe we will win."
Kucinich on the President's 9/11 Speech
Link Shared by Linda Z from Texas [Thx!]
http://kucinich.house.gov/News/DocumentSingle.aspx?DocumentID=49874
Also Shared by Linda Z from Texas
-
Audio Interview with Dennis & Elizabeth Kucinich Regarding Lebanon

http://www.truthdig.com/interview/audio/20060912_kucinichs_on_lebanon/
SOME LIBERAL TIDBITS TO ROUND OUT ONES WORK WEEK

Hillary's Challenger Crucified On A Cross Of Gold
Scott Ritter
Money is the difference between having a fighting chance and total obscurity for Hillary Clinton's challenger
Jonathan Tasini
in the New York Senate Dem primary.
http://www.alternet.org/blogs/themix/41476
Bush, Cheney and Rumsfeld Diagnosed as "Waraholics"

Rick Gell
With the Democrats and the mainstream media enabling them, administration leaders are five years into a major war binge. They won't stop until they've hit bottom.
http://www.alternet.org/waroniraq/41472/
Why Rudy Giuliani Can't Stop Cashing In On 9/11

Dan Collins, Wayne Barrett / The Nation
Former New York Mayor Rudy Giuliani has made millions from his Sept. 11 grandstanding and has positioned himself for a presidential run based on his 9/11 persona. How much longer will he get away with it?
http://www.alternet.org/stories/41443/
MESSAGE FROM DEMOCRACY FOR AMERICA [DFA] ON IRAQ
Robert Greenwald's new movie Iraq for Sale: The War Profiteers is creating quite a buzz in the media. The New York Times review says:
"Mr. Greenwald compiles a horrifying catalog of greed, corruption and incompetence among private contractors in Iraq, focusing primarily on Halliburton, Blackwater Security Consulting and CACI International... the movie goes on to trace connections between the contractors and the Republican Party, assert the buying of influence and explores what it says are questionable accounting systems that encourage an exorbitant waste of taxpayer money. And that's just the first 30 minutes."

The Los Angeles Times says the film could "unite viewers across all political spectra."
Halliburton, Dick Cheney and Republican leaders everywhere don't want you to see this movie, especially in October, just a few weeks before Election Day. That's why over 100 DFA groups around the country have already set-up a screening of Iraq for Sale so you can see it FREE. Search for a free screening:
http://www.dfalink.com/iraqforsale
You probably remember a few of Robert Greenwald's other movies such as Outfoxed and WalMart: The High Cost of Low Price. In Iraq for Sale, Greenwald takes you inside the lives of soldiers, truck drivers, widows and children who have been changed forever as a result of profiteering in the reconstruction of Iraq. The film uncovers the connections between private corporations making a killing in Iraq and the decision makers who let it happen.
Movies are a great way to spread a progressive message and have fun. It's also an excellent tool to recruit new members and students. Can't find a screening near you? Just set up a DFA-link screening during the week of October 8 to 14. Then get at least 15 people to RSVP by September 25 and you will receive a free DVD courtesy of DFA. In the past, DFA activists have organized house parties or used community centers. Often community colleges and universities have free rooms available for just this type of thing. Make a party out of it, who doesn't like a free movie and some popcorn? Set up your own event (you may need to login in first):
http://www.dfalink.com/iraqscreening
IMPORTANT MESSAGE FROM UFPJ [United for Peace & Justice] ON NYPD
Next Tuesday, September 19, President George Bush will be addressing the United Nations in defense of the disastrous Iraq War. United for Peace and Justice has planned a peaceful march and rally to voice our opposition and call for the troops to come home.
Yesterday we met with the New York Police Department, who informed us they will not allow any marches near the United Nations that day. In fact, they said they would not allow any marches east of Park Avenue, south of 52nd Street, or north of the mid 30s. The police are invoking "security concerns" to justify shunting us so far away from the site of Bush's speech that we might as well be in another borough. We wouldn't just be out of earshot and out of visual range -- we'd be many long blocks away. Is this what democracy looks like? We were completely willing to discuss a range of reasonable march routes, but the NYPD refused. Their only proposals were for marches far from the UN or a slot for a short rally at Dag Hammarskjold Plaza, among at least eight other organizations working on an array of issues.
This is another in a long line of actions by the New York City Police Department -- and the federal government -- that undermine our right to dissent. Time and time again, United for Peace and Justice has had to fight to exercise our basic right to peaceful protest. They tried to stop us from rallying in the lead-up to the Iraq War. They tried to sideline our protest against the Republican National Convention to the sun-baked West Side Highway. We didn't back down then, and we're not backing down now. United for Peace and Justice is determined to have the strongest possible antiwar presence on the streets of New York City on September 19 while Bush speaks at the UN. We know this is a workday, but we urge you if you possibly can to make plans to join us in the streets.