PERSONAL NEWS #155

October 16th through 20th
– I took some vacation time from work to celebrate my 50th birthday, entertain my friend Michelle [visiting from Nevada] and enjoy a terrific birthday party at The Parlour on West 86th Street.
On Thursday I took care of errands, laundry, cleaners, groceries and my cleaning lady stopped by to go over the apartment. Michelle's flight landed around 7:30pm and she took a shuttle bus into Manhattan from JFK. Before meeting her outside Port Authority, I stopped by the office to take care of a few items. Weather that evening had a slightly cool breeze, but overall still showing signs of an Indian summer. Around 9pm I hooked up with Michelle, gave her a big hug and we headed towards the subway. Last time she visited NYC was in June 2003 for the Pearl Jam gigs at MSG. Great seeing her again, looking well and then back at my place we just hung out chatting until midnight. She utilized the sofa bed in the living room for comfy sleeping arrangements.
Next day, Friday, I turned 50 at 10:14am! WooHoo! After breakfast, phone calls and getting dressed, we head out around 11am and took the subways into Manhattan. Weather was blue sky, sunny, and heading up to 70 degrees with a slight breeze. Perfect for touring around NYC! Michelle and I arrived at the Metropolitan Museum of Art [MMoA] just before noon time and the place was already hopping with visitors. This is my favorite museum in NYC and it is situated on 5th Avenue with Central Park nestled behind it. Paid one dollar each, took the MMoA button and headed to the elevator. Got off at the 5th floor, which is also the roof garden, and Michelle was delighted with the views of Central Park and NYC. [Some of the trees were displaying there glorious fall colors.] The Jeff Koon's sculpture exhibit was still on display until October 24th. We admired the spectacular views and took lots of pictures.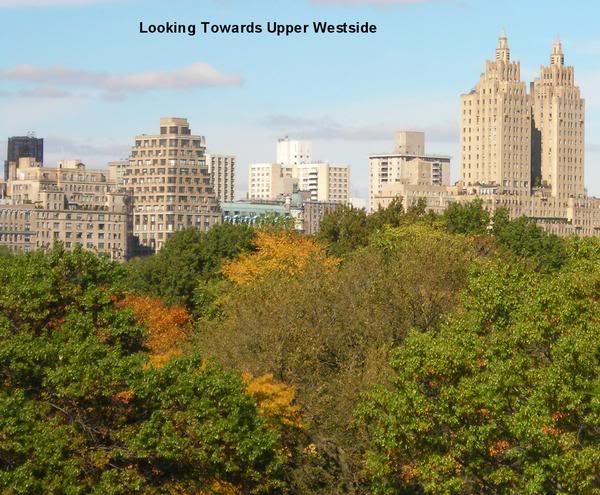 We took the elevator back down to tour around a few exhibits, one of which is the permanent Egyptian section. At this point we were both feeling abit hungry and head just outside to a vendor for warm, yummy pretzels and ice tea. Not exactly healthy, but gosh darn, they sure were tasty. Afterwards we strolled briefly into Central Park to view Cleopatra's Needle, which is near the MMoA, and also a good spot to catch some rays from the sun. Before heading to the subway, we checked out the artisan street vendors and made a few purchases.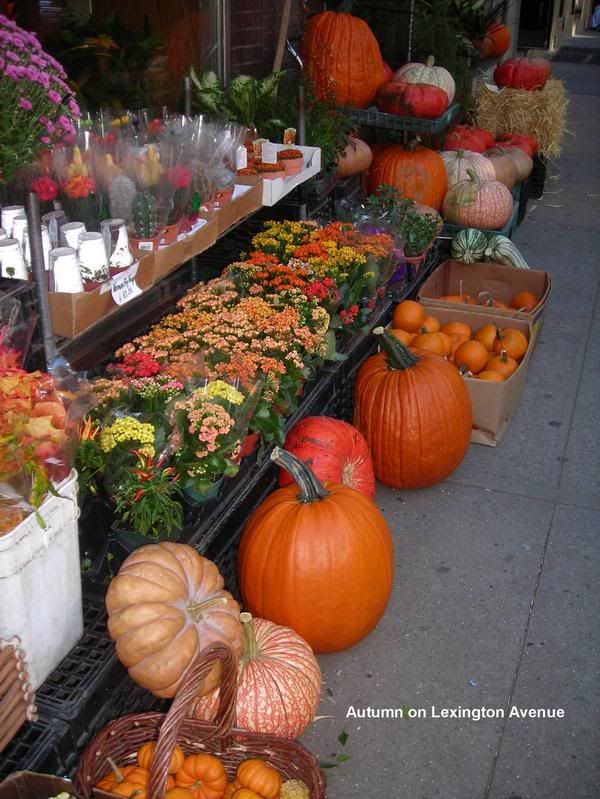 On the subway we headed downtown to Greenwich Village and got off at Sheridan Square near Christopher Street. I took Michelle to McNulty's, which has wonderfully fresh loose teas and coffees, plus all the gadgets that go with it. We strolled around several of the charming streets in Greenwich Village, checked out a shop or two, and even strolled through a lovely garden next to a church on Hudson Street.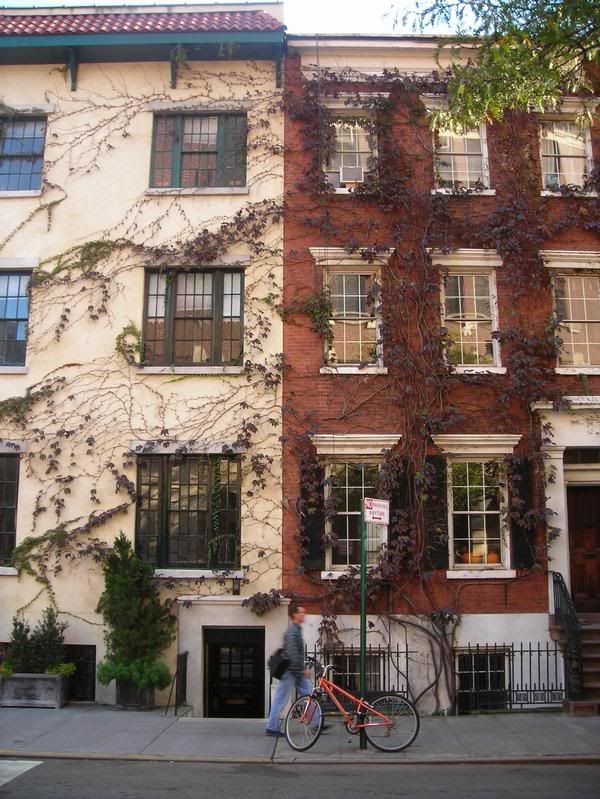 Headed back to the subway and got off at Times Square to do some shopping at Bead's World. Both Michelle and I are very much into creating our own bead style jewelry. Michelle was overjoyed with the quantity and quality at Bead's World on Broadway. From there we walked over to my office at EY to hang out for awhile. The views, even in the evening, are really quite impressive. We then headed back to northern Brooklyn and Michelle treated me to a tasty dinner at Thai Café. After a satisfying dinner, we strolled around my neighborhood abit, and I showed her some of the more attractive streets with charming homes. Upon entering my apartment building we found a parcel in the hallway for me. It was a birthday gift from my friends Nancie and Tim in Virginia. They sent me "petit fours" from Figi's. The rest of the evening we sat in the living room drinking tea, nibbling on a few yummy "petit fours" and watching the telly.
Next morning, Saturday, October 18th, before walking over to the farmers market in the park, we stopped by the local bagel place for breakfast. Weather was much cooler today with 20 mph winds. At the farmers market I picked up some dairy and bread products. Back at the apartment we changed into warmer garments and strolled over the nail salon. After waiting awhile, and checking the clock, we realized there wasn't enough time. Before we left the nail salon, I utilized Michelle's cell phone to reserve car service to Manhattan. I specifically stated pick up time to be 1pm. From there we walked to "The Garden" to pick up the cake I had ordered a few days ago and encountered an obstacle. Well, maybe not an obstacle, but definitely an irritating hiccup in the proceedings. I handed my "paid" receipt to the bakery employee and was told I owe another $20 on the cake. What?!? Excuse me?!? Apparently the employee who took my order a few days before messed up or misunderstood my request. Also, upon viewing the chocolate/hazelnut cake, it looked hideous with large gobs of white, yellow and green icing flowers circled around the Happy Birthday segment. This would not do, not at all. In the display case was a perfect-looking chocolate mousse cake. I asked for that cake instead and they iced on Happy Birthday. Wasn't in a good frame of mind when I left "The Garden" with Michelle and wondering what else could go wrong that day. Sigh!
Back at the apartment we had limited time to freshen up and change into our party clothes. Next thing we knew it was 12:45pm and the friggin car service was 15 minutes early. Ugh! We grab everything [ie: cake, basket for party favors, petit fours, coats, bags, etc] and dashed out the apartment. The ride into Manhattan was uneventful and we arrived at The Parlour [upper Westside Irish pub/restaurant] around 1:15pm. Upon entering the pub we encountered Paul, our "host" for the afternoon. He announced there were a few slight "changes" to original arrangements for the party and I started to feel abit panicky. Sensing my unease, Paul immediately clarified that arrangements had been upgraded to the more "private" room in the back and not the front room. He said that as long as my guests purchased food and drink, I would not be charged for space rental. Whew! Amen! The back room was large enough to accommodate 20+ people. After taking off our coats and freshening up in the bathroom; Michelle and I were introduced to our waitress, Caitlin. She took the cake, plus the petit fours, into a pantry off the party room, were it would be stored in a small refrigerator until 4pm. Cake time! I gave Paul the guest list to check off those who came to the party. At about 1:40pm Dee, my co-worker and party planner, showed up with balloons and party favors [ie: M&Ms]. Everything looked so pretty in the colors I choose of navy, baby blue, white and silver.
As we were setting up the balloons and party favors my first guest arrived … Judith. Great seeing her and we've been staying in touch via email over past 2 years. We met during Jessica Flagg's 2006 congressional campaign near Riverdale. [We support and proudly voted for the Green Party.] As always, my nerves seem to get the better of me, which makes me abit hyper and added to that sipping white wine on a somewhat empty stomach. Mon dieu! Between 2pm and 3pm the majority of my friends [ie: Stephanie, Robert, Max, Mary, Anni, David, Larry and Kristina] arrived, some bearing cards or gifts, and I greeted them all with warm smiles and hugs. Everyone ordered beer, wine, or soda, along with appetizers or main entrees. As for me, I was busy chatting with my party guests, nibbled on a few potato fries and greeting others [ie: Eileen, Joe, Marie, Cielito, Thomas, Phoebe] that showed up after 3pm. Around this time Dee had to leave and head off to another event. I'll see Dee Tuesday at work and show her the party pix that Michelle was taking with her digital camera. Everyone was having a good time and many conversations were on politics, travel, protests, health, work, etc.
Before Caitlin came out with the cake at 4pm, I gave a long rambling speech thanking everyone in making my 50th birthday very special and just talking about "things" in general. Many laughs throughout that segment [smiling] and then Caitlin brought out the chocolate mousse birthday cake with 6 to 7 candles on it. Wow! It looked so pretty and festive.
Before blowing out the candles I said, should I make an impossible wish or a practical one. Everyone agreed I should make both wishes. Gazing towards the heavens or in this case the ceiling of The Parlour, I made my two wishes and then blew out the candles. Hell yeah, the lungs didn't let me down and worked just fine.
Shortly after this two more friends [ie: Margaret & Linda] showed up to enjoy the party. Caitlin also brought out the Petit Fours for those who didn't want a piece of the cake. The Parlour host, Paul, came in at that time and mentioned we could have the space until 6pm. Hurray! Shortly after I passed around slim slices of the yummy cake, a few of my guests [ie: Joe, Marie, Anni, David, Mary, Kristina, Thomas & Phoebe] had to leave for other events. Michelle took pix of me with my friends, as well as amusing candid pix throughout the party. Thank you so much Michelle, you are a gem! Close to 5pm I finally sat down to eat some cake and further socialize with my friends, plus regale them with some amusing stories [ie: hair brush incident of 2007]. We all enjoyed a good time and shared many laughs. Close to 6pm Caitlin took a few group pix of everyone wishing for universal peace.
Everyone paid their tabs, plus pooled together some donations and gave me a gift of $100. I was so very touched by their kindness and thoughtfulness. Then it was time to pack up all the gifts and cards, grab our coats, say goodbye, warm hugs and then head out towards our respective transportation.
Michelle and I grabbed the downtown #1 subway and switched at Times Square for the #7 and then onto the G subway. By this time I'm feeling abit tired and hungry. When we finally get back to my hood we decided to go straight to the Chinese Musician for a tasty meal. I had chicken, mixed veggies and some brown rice. I felt so much better after noshing on the meal and chatting about the party with Michelle. Before heading back to my apartment we stopped by a deli to pick up some dessert snacks to have with our tea. Back at my cozy apartment, while making tea, I put away the gifts and tacked up the cards, plus put the flowers from Anni/David in a pretty vase. Michelle takes a few more pix of the left over party favors and flowers. Then its time to relax in the living room, drink our tea, nibble on some goodies and watch a movie on PBS. By the time 11pm rolls around we are both yawning and ready for bed.
On Sunday, October 19th, after breakfasting at local bagel place, we head over to Eckard store around 11am. [Weather was abit windy and cool today, nothing like Friday.] While at Eckard we encounter issues with regards to getting Michelle's digital pix to a CD, so we took our business down the avenue to RiteAid. They were able to help us quickly and we left there with pix from past two days on a CD. Hurray! Jumped on the subway and headed down to Brooklyn Heights for abit of a tour. Michelle really enjoyed strolling around those charming streets, gazing at brownstones, front step displays of Halloween pumpkins and the terrific views from the Promenade. Lower Manhattan is impressive with the Brooklyn Bridge, South Street seaport, Statue of Liberty, NYC harbor and Governors Island. Along Montague Street we stopped into the Connecticut Muffin shop to sample one of their tasty muffins. Montague Street has many nice shops and cafes. Back on the subway we took it a few stops to Wall Street area in Manhattan and walked up Wall Street towards Trinity Church.
At this point we were trying to find a branch of Michelle's bank, so she could get funds out of the ATM. There was road construction going on and we had to take the long way around. And still we couldn't get near the bank or ATM, and so we got on an uptown train at Bowling Green. Got off at Grand Central Station and purchased liquid refreshment at Oren's near entrance to 4, 5, 6, 7 subway(s). Michelle had coffee and I had a tasty vanilla milkshake. Dang that was so good! Along Park Avenue we tried to find her bank and ATM. No luck, so had to settle for one near 101 Park Avenue. In that area are shuttle buses that take passengers to the NYC airports. Michelle's flight leaves NYC next day and she purchased her bus ticket in advance. From there we walked over to 6th Avenue to check out several terrific bead shops and made some purchases. Michelle was amazed at the abundance of bead selection at these shops. I picked up another case [1/2 price] for sorting some of my beading tools and items at home. From there we strolled over to Times Square, took some pix, checked out a NYC souvenir shop and then ended up at the awesome M&M store on Broadway at 48th Street.
By this time the afternoon is shot and we hop on the M104 bus to the upper Westside. Check out a few restaurants and decide to have dinner at Ollie's at 1991 Broadway. Dang that place is busy and the food was okay. Afterwards we both agreed to head back to my hood and get a drink at the Black Rabbit. We arrived around 8pm and the place is actually busy for a Sunday night. WTF! After ordering our drinks we learned that every Sunday evening is Bingo night at the Black Rabbit. So we stayed on, had a blast playing Bingo, nibbled on peanuts and had a second drink before heading home around 10am. Michelle actually won one of the games and received a small prize, plus two shots of some kind of liquor. No, not a fuzzy navel, but something similar. Back at the apartment Michelle packed her items, as we had to be up early next morning to head into Manhattan to catch her airport shuttle bus. In the city the next day Michelle caught the 9:15am shuttle to the airport and I headed home to Brooklyn. Overall I had a great time hanging out with Michelle and my birthday weekend was terrific. Be peace……..