PERSONAL NEWS #168
[Duchess Note: Condensed version of "personal news", as I've been abit busy lately and therefore lagging behind on my edits.]

Saturday-Tuesday, Sept 5th through 8th, I visited my parents in upstate NY for the long Labor Day weekend. I had a nice, relaxing time and even brought my office laptop with me. It was so nice to sit in a comfy recliner on their screened in porch in the evening and surf the Net.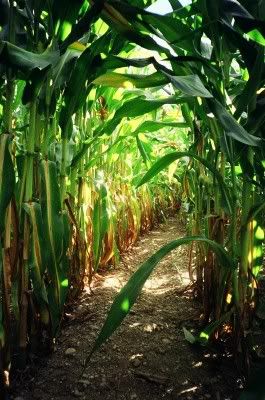 [Exploring a corn field………..]
[A peaceful wooded area near my parent's home]
Also, over the course of an hour or so, I interviewed my father in regards to his youth, which was spent growing up in Pound Ridge [NY]. This town of my own youth is situated north of NYC in Westchester County, about an hour via MetroNorth. Overall I had a lovely time visiting my family in upstate NY.
Wednesday, Sept 9th, I had a foot doctor appt, which included therapy for my foot. Afterwards I head up to West 26th Street to Revolution Book store to hear Chris Hedges talk about his new book called "Empire of Illusion". The place filled up quickly and they used a PA system for about 20+ people outside to hear Mr. Hedges speak on a variety of topics, plus take questions at the end. It was an interesting evening and I definitely want to come back to check out the books in this store.
Thursday, Sept 10th, was another insane work day at the office and I didn't get out of there until 8:30pm. Was suppose to do "phone banking" for Josh Skaller's city council campaign, which was from 6-9pm, and then go home to jump on a conference call hosted by Congressman Kucinich on healthcare. I was too tired when I got home and simply crashed.
Friday, Sept 11th, is the 8th anniversary of the horrific events at WTC and Pentagon.
Saturday, Sept 12th, I attended an 11am press conference and walkabout at Doug Biviano's City Council campaign headquarters in Brooklyn Heights. Congressman Dennis Kucinich [Ohio Democrat] endorsed Doug's campaign and attended the press conference with his lovely wife Elizabeth. It was great seeing Dennis again and he greeted me with a hug, plus a warm smile, then introduced me to his wife. Press from several newspapers, including one from ole Greenpoint, was there to cover the event and also interview Kucinich and Biviano.
[Duchess Note: More "personal news" and photos to follow, along with a report on my vacation to my beloved Cape May, NJ.]