PERSONAL NEWS #169

Sunday through Thursday, Sept 13-17, I was on vacation down at my beloved Cape May, NJ, and stayed at the Macomber hotel right on Beach Avenue. Sweet! Unfortunately, my favorite room wasn't available, so I had to utilize a smaller room on the top floor with no view of the beach. The next day the hotel staff moved me to my favorite room after it became free. Hurray! It's a charming room on the second floor with a lovely view of the beach, and a nicely landscaped miniature golf course. Next to the hotel is a bicycle rental place and I was so surprised to see Joe sitting there. [We've been friends since 1998.] He'd been working elsewhere since 2006, recently gotten divorced, and now "owns" Cape Island Bicycle. I rented a bike for the duration of my stay in Cape May and Joe gave me a discount. Great guy! Several of my favorite places to dine in central Cape May are Zoe's, Depot Mkt Cafe and George's Place. [Good food, service and their prices are quite reasonable.] Was unsettled to see my beloved "Seaside Sweets" had gone out of business. They made the best chocolate covered potato chips in all of Cape May. While on vacation I brought my laptop with me, as the hotel has free WiFi access. Used it mostly in the evenings from 8-10pm to surf the Net and work on transcribing interview with my father. The latter I eventually sent to Bonni Brodnick for her "Talk of the Town" column in the Record-Review. Also had my cell phone with me, plus I utilized it as an alarm clock to wake me up in the mornings.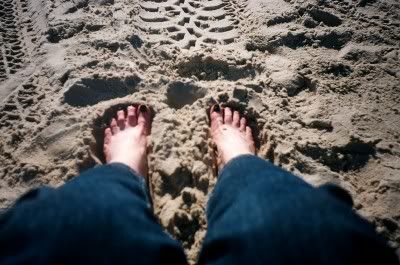 [My toes are content in feeling the warm beach sand underneath]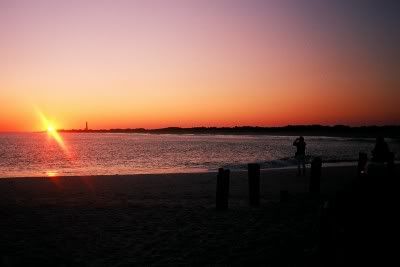 [The sunsets are so lovely in Cape May]
While visiting Cape May, I make a point of hanging out at the southern end of Beach Avenue around 7pm to view the lovely, soothing sunsets. I'm not the only one enjoying this leisurely pastime. Over the course of my stay I pedaled around lovely Cape May, shopping at Washington Street mall, taking pix, hotel veranda, and sit on the beach with toes in the ocean. I also visited the Cape May lighthouse, Bird Observation & Sanctuary, nature walks, Sunset Beach, WW2 tower/museum, Queen Victoria garden tour, Angel of the Sea Inn tour, Emlen Physick house museum/gallery, Rug Hook exhibit at Chalfonte hotel, and the Cherry House tour. The latter was so enjoyable and fascinating. I highly recommend taking this tour when visiting Cape May.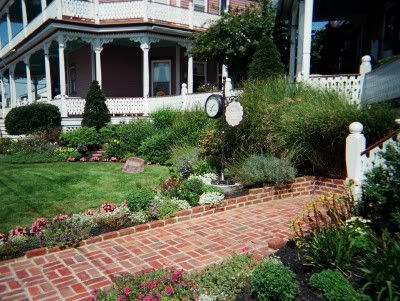 [Views of the "Angel of the Sea" Inn – Cape May]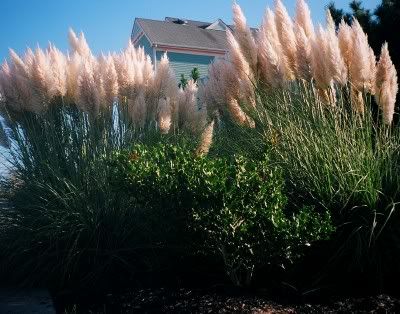 [Seaside plants in Cape May]
I also visited Regina, and her beloved dog [ie: Golden Retriever] Brandy, at Twin Gables on Columbia Avenue. [I've stayed there several times between 1998 and 2006. Regina's cooking and baking is wonderful.] Was upset to learn that her husband, Harry, passed away in early 2008, and last time I visited them was September 2007. Overall I had such a nice, relaxing time during my vacation and it always saddens me when I have to head back to NYC.
[NOTE: Stay tuned for photos.......]

Friday evening, Sept 18th, I volunteered with City Harvest at Union Square farmers market.
Tuesday morning, Sept 22nd, I assisted another EY BSC EA at a VPs apartment near Lincoln Center. We had to wait for furniture delivery and then tip the chaps from Macy's. It's a really nice apartment with lovely views of Central Park, Central Park South, Broadway and Eastside of Manhattan. After work I had a foot doctor appt, which included therapy for my foot. Afterwards I jumped on the #3 subway to Atlantic Avenue in Brooklyn to pick up new Pearl Jam CD at Target.
Wednesday evening, Sept 23rd, I am participating in a new telecourse by NVC Academy called "To be Peace" and it is hosted by Miki Kashtan. [Thank you so much, Joe A, as he assisted me with credit card.] Unfortunately I missed the Sept 9th call, which was the first of the series and this telecourse goes through to early December.
Thursday evening, Sept 24th, I attended the Park Slope Knit meetup held at Hanco's. Great socializing with others who are into knitting and crocheting, plus eat some good food.
Friday evening, Sept 25th, I had dinner with a fellow PJ fan and friend [Andrea]. We've stayed in touch, via email / Facebook, over the years and last time we'd hung out together was to see PJ at Letterman in 2005. Andrea stopped by my office [EY] and I gave her a brief tour before we headed out to dinner. We enjoyed a tasty dinner at "Simply Pasta" on 41st Street near 6th Avenue, and while leisurely noshing on salads we caught up on news, PJ and gossip. We both adore PJs bass player, Jeff Ament, who we think is such a hottie.
Saturday & Sunday, Sept 26/27, visit Nadine and Peter's weekend home up near New Paltz and Kerhonkson, which is on the border of the Catskills. The week before they had adopted a 4-year old dog from a rescue shelter and it was Sparky's first time in visiting the New Paltz / Catskills region, as well as getting better acquainted with his new owners. Sparky looks to be part Beagle and Pointer, plus he's a well behaved doggie. Met up with Peter and Nadine at 9am in Manhattan and from there we drove up in their car. We drove leisurely along the lovely Palisades interstate parkway, and then on to route 87N before getting off at New Paltz. We did some shopping at "Health Nutrition Center" and then lunch at "Karma Road Organic Cafe". I highly recommend this cafe and the food was delicious. You can check out their website at
http://www.karmaroad.net/
. It was also health conscious weekend for me, as both Nadine/Peter are active Vegans. Got me to thinking about becoming a total vegetarian or vegan starting in January 2010. After settling into their charming weekend home, and taking a tour of the 7 acres, we headed over near Ellenville to do some hiking at Sam's Point.
[Nadine, Peter and Sparky getting ready to descend into Sam's Point Ice Caves]
[The rich, colorful beauty of an Autumn harvest]
My foot held up well, but my lungs and asthma was another matter, plus I also realized I am abit out of shape. Need to do more cardio, stretching, yoga, meditating and healthier eating. [It's been a few years since I'd done all that 24/7; time to get back into the groove.] The vegan lifestyle is sounding more appealing to me every day. The hike around parts of Sam's Point and the Ice Caves was really cool, plus the views are quite lovely. We spent the evening indoors eating a delicious healthy meal by Nadine, relaxing by the warmth of the fireplace, and watching movies on PBS until midnight. Next day woke up to overcast, foggy, wet weather. After a lite tasty breakfast Nadine and I enjoyed listening to Peter play the piano, plus we walked down to the creek at one end of their property. In the 2 ½ years they've seen deer and bear around their property, plus other smaller wildlife. Before heading back to Manhattan, we noshed on a late lite lunch of multi grain toast and soup by Nadine. Back in the city they dropped me off at the subway and I arrived home around 7pmish. Overall a very enjoyable weekend.
[NOTE: Stay tuned for photos.]