REVIEW & PHOTOS FROM JANUARY 27th RALLY & MARCH IN WASHINGTON DC
I went to bed the night before at 9:30pm, so as to get enough sleep and rest for the big day, which started at 4am on Saturday, January 27th. All was dark, still and quiet outside on a cold January morning. I had everything ready to go in my backpack, except for the bagel sandwiches, which I packed before heading out to the waiting car service at 5am. I headed down to Grand Army Plaza at the Brooklyn Library to meet Linda and Phyllis for the transportation. Upon arrival there were about 20 people or so already there waiting in the cold before dawn. BPFP [Brooklyn Parents for Peace] provided free coffee and tea, plus last minute instructions. While waiting for my friends to arrive, I ran into a dear fellow Kucitizen, Thomas, along with his girlfriend Phoebe. I hadn't seen Thomas since the NYDoP Gandhi event back in September and we exchanged a warm hug. They'd been up all night working on posters for the rally and march. I was getting concerned about my friend's arrival and Thomas utilized his cell phone to call Linda on hers. Was told not to worry, as the buses never leave on time and when we finally took off, it was 30 minutes behind schedule. My friends finally showed up at 5:55am and we got on the bus behind the one Thomas and Phoebe was on. BPFP had 6 buses going to DC and over 300 people in attendance.
Most of the first half of the ride down I napped on the bus and had two seats to myself. At the Chesapeake rest stop I purchased Vitamin Water, as well as chat with Thomas and Phoebe. Then back on the bus for the rest of the excursion and listening to my walkman. As we rode south the weather looked like it would be a blue sky sunny day. We arrived [11am] at the Greenbelt stop on the DC Metro line and our bus captain [Jane] went on to purchase our metro cards. While waiting I took some pix of Thomas and Phoebe in their "march" attire. [photo below]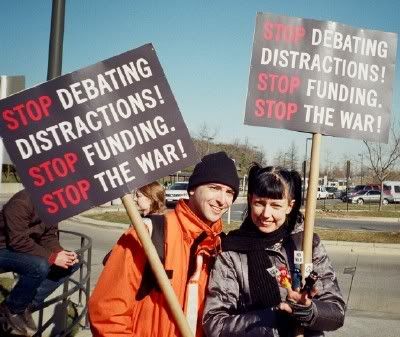 There were many buses from different states and all us activists heading to DC to congregate with others in solidarity. It's an amazing feeling. Jane, our bus captain, came back with our Metro cards and off we went. During the crowded ride to the Archives/Navy Memorial stop we encountered a slightly odd, young, plump chap. Who confessed it was his first time away from his mother and chatted with anyone who'd listen to him. I also distributed some of my NYDoP flyers & brochures, plus chatted to a few about DoP legislation.
At our destination, along with 100s of others on the Metro, we made our way down 7th Street NW and then left on to Madison Avenue NW. A large field opened up before us looking down towards the Capital building. [National Gallery of Art to one side and the Air & Space Museum on the other side.]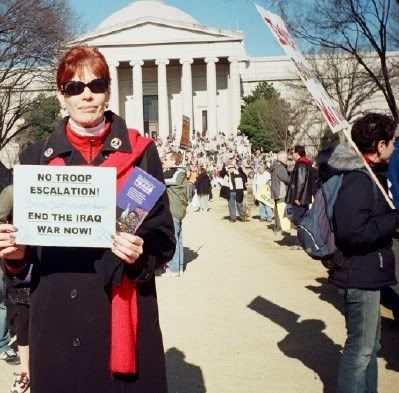 [Duchess at the DC Rally holding up a sign and NYDoP brochure]

We heard the guests speaking over the amplifiers; saw 100s of banners and thousands upon thousands of people. So much to take in and experience, then Linda noticed that Phyllis had taken off to do "her own thing". So the two of us hung out, listened to the terrific speakers, handed out flyers, looked at merchandise, engaged in conversation with folk from PA, WV, NJ, MA NC and even NY. Unfortunately, due to bus and metro delays, we arrived halfway through rally and missed many speakers like Kucinich. That really bummed me. While taking a much needed "bathroom break", there came an announcement over the PA system that Karl Rove [demented bugger] had been subpoenaed and a huge cheer came up from those assembled. I'm in the porta-potty cheering and clapping. Yahoo! Afterwards Linda and I spotted a group holding up a long, long banner with the names of all the soldiers who'd died in this illegal war/occupation of Iraq. They were from NC and it took them weeks to create this impressive huge banner. I was told reactions to this work varied from being very solemn to weeping.
Shortly afterwards the "march" began and it was a slow progress along 4th Street NW and up Pennsylvania Avenue NW. People climbed trees for a better view and the overall tone of the march was enthusiasm and solidarity.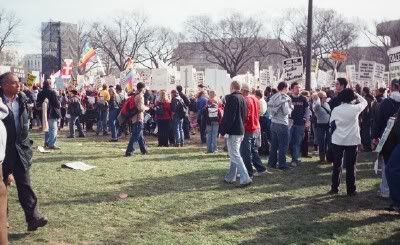 Linda and I only got as far as top of the hill and turned around to head down to the Reflection Pool for a break. We sat for some time observing the scene unfolding before us, enjoying the sun and eating abit of lunch. Then it was off to investigate the many tables full of buttons, bumper stickers, books, flyers from many different groups. Such as veterans, labor, faith-based, peace, youth, PDA, MoveOn.org, UFPJ and many other organizations. I engaged in conversation with several folk on current topics. By this time it was going on 4pm and we headed for the Metro. Along the way we picked up some refreshment and conversed with more people. After a 7-minute wait our "green line" Metro arrived, we had to squeeze on and make the best of it. Yes, it was cramped, but despite that I had a delightful conversation with two gents from PA on the rally, politics in general and the Dept of Peace. [One of the gents was originally from Westchester County, just like me.] I did quite well in handing out many flyers on Dept of Peace and NYDoP. The general feedback was very positive and only two individuals that day scoffed at the idea of a DoP.
We arrived at the Greenbelt Metro stop and everyone piled out of the train to head for their respective buses. Took Linda and me awhile to find our group of buses, but find them we did at the far end of the parking lot. Ugh! We also found Phyllis who'd gone off on her own and had some stories to tell. Felt good to be back at the bus and sit down on nice, comfy seats. Our buses left 30 minutes late; plus Linda, Phyllis and I experienced some "issues" with some spoiled self-centered teens. I swear, yes, I do swear, some kids nowadays have neither respect nor consideration for their elders. Mon dieu! And later on they tried to accuse us of theft. The nerve of those brats! Despite these hiccups on the ride home it was pleasant and we made a short pit stop at a rest area. The Starbucks caramel frappacino was refreshing.
We arrived back into Brooklyn at 10pm. Linda's daughter Vanessa picked us up in her car and drove us all home. Merci beaucoup Vanessa! Arrived at 10:45pm and too wired/tired to go to bed right away. I plan on repeating this whole experience on March 17th for another rally/march in DC. In the meantime, this coming weekend, I'll be heading back to DC for the 4th Annual Peace Conference in Arlington. To learn more, go to: www.thepeacealliance.org
QUOTE OF THE DAY
...
Peace can not be kept by force, it can only be achieved by understanding
Albert Einstein
Irreverent Observations
http://www.killinghope.org/
Contrary to the image of Bill Clinton as a draft-dodging anti-war protester in the 60s, it seems, instead, that he was actually informing on his "fellow" protesters and Fulbright scholars in Europe for the CIA. Roger Morris, former National Security Council official, reports on this in his book Partners in Power. Almost as surprising is his revelation that wife Hillary -- the great champion of children -- was a strong supporter of the contras in Nicaragua in the 1980s, the same band that just loved to go around murdering women and children, raping, burning down villages, and singling out schools and medical clinics for destruction. The book further makes it clear that the Mena, Arkansas drug-trafficking charges against Clinton are not simply a conspiracy freak's wet dream.
Hillary Has This Failure to Connect
By Jonah Goldberg, an editor at National Review Online: Tribune Media Services
Published February 1, 2007
A weird thing happened in Iowa this week. Hillary Rodham Clinton was campaigning for president--no, that's not the weird thing--and she paraphrased a question from the audience about what in her experience prepared her to deal with "evil and bad men." Before she could answer, the audience burst into laughter, and Clinton joined in. It was such an awkward moment, much of the commentarial hasn't figured out exactly what to say about it, starting with Clinton herself. At first she tried to explain that she was thinking of Osama bin Laden and Bush's inability to capture him. Later, she claimed she was making a joke--just not about her husband. From my own viewing of the video--you can find it on YouTube and elsewhere--Hillary wasn't making any joke at all. She was merely the butt of one and laughed along with the crowd--without getting the joke--in an excruciating "I meant to do that" sort of way.