PERSONAL NEWS
#173
Wednesday, December 2nd, I attended a Peace themed event at the All Souls Church on upper eastside of Manhattan. There was singing, reading of poetry, slideshow and refreshment. I was invited by Susan Cushman and Mary Geissman who are part of the Peace Task Force.
Thursday, December 3rd, I joined other members of TGTSNBN meetup at IBM Atrium near East 56th Street. The theme of this meetup was the history and applications of Heraldry. I also brought some of my C of B Design earrings for sale, and sold many pairs, plus took two orders for custom designed pieces. Deborah brought the Inkheart series, which she is lending me to read.
Friday, December 4th, I attended the "Friday Nite Knits" meetup in Kensington at the Oak & Isis. This evening there was a live quartet playing Brazilian jazz.
Saturday afternoon, December 5th, I joined other members of TGTSNBN for Quidditch at Riverside Park. Since only 10 members showed up and the weather had turned horrible, we decided to head over to TOAST for a tasty brunch, and then some fun holiday shopping at MICHAELS on Columbus Avenue.
Sunday, December 6th, I headed out to Staten Island to attend the Tolkien Reading Day event hosted by SI OutLOUD. I haven't been on the Staten Island ferry in several years and the terminals are all new, plus they don't charge anymore on the return trip. Had some issues with the buses to the Greenbelt Nature Center, and then hitched a ride with Dennis the last part of the journey. On the way back to the ferry, I hopped a ride with an acquaintance of mine. Stephanie and I discussed politics during the ride. The Staten Island OutLOUD group performed in song, music and word the first four chapters of Tolkien's Silmarillion. It was quite enjoyable, and the place was full with attendees. Anthony and Jessica were there as guests, plus as chairpersons of the Northeast Tolkien Society. During the raffle/quiz segment I actually got one of the questions right, and received a Tolkien book called "Words, Phrases & Passages in LotRs".
Tuesday evening, December 8th, I joined other NYDoP CCR team members for a productive conference call.
Thursday evening, December 10th, I joined in the "World Can't Wait" conference call at 10pm.
Friday, December 11th, I assisted a few other City Harvest volunteers at Union Square farmers market. Afterwards I jumped on the subway and head into Brooklyn for the "Friday Nite Knits" meetup at The Oak & Isis".
Wednesday, December 16th, I had a foot doctor appt for much needed therapy on my left foot.
Thursday evening, December 17th, I attended the annual EY FSO holiday party at "Tavern on the Green". Since I've switched to being Vegan, I had a feeling my buffet options would be limited at this event. Upon arrival to the event my surmises proved correct. I had two Cosmopolitan drinks along with hummus, grilled veggies and pita bread. As always the event was so crowded and loud. I ran into co-workers of mine and had several diverse, interesting conversations before leaving around 8:45pm.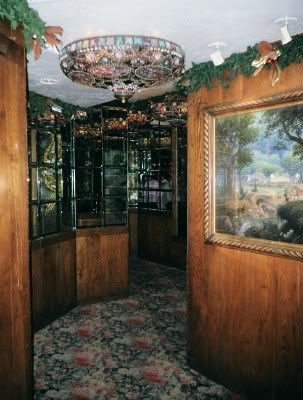 [Tavern on the Green in December]

Friday evening, December 18th, I joined other NYDoP core team members for our annual holiday gathering, and this year it was held at "Spring Street Natural" restaurant in SoHo. This place is wonderful and I highly recommend it to all. There is a variety of food options for everyone's palate, even us Vegans, plus lots of diverse drinks. I again had two Cosmopolitan's along with a delicious Vegan appetizer and meal. This stuff called Seitan and the way it's prepared, well, it reminded me of chicken. Everyone had a good time, lots of laughs, plus interesting discussions and we even did a gift exchange.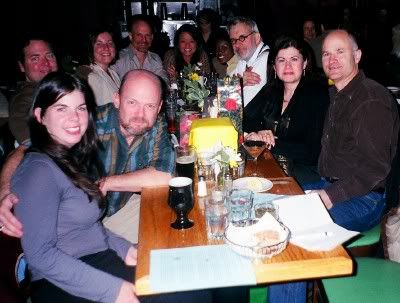 [NYDoP members enjoying our annual holiday gathering]

Saturday evening, December 19th, my friend Jackie came over for dinner, holiday gift exchange and to watch movies while it snowed outside. I rented two films for our entertainment ... the latest "Star Trek" and the second "Night at the Museum". We very much enjoyed both films. I kept the living room curtains open, so we could gage the snowstorm progress throughout the evening. For dinner I whipped up tasty roasted root veggies, pasta with sauce, and garlic bread, plus we drank wine. For dessert we nibbled on some Vegan goodies from The Garden. Just after midnight I walked Jackie to the subway through the storm and 10 inches of snow on the ground. Wanted to make sure she arrived at the subway okay. The chap down the street selling Xmas trees was still there, even though no one was out, and almost a foot of snow covered everything.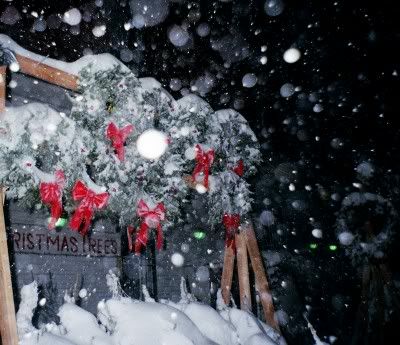 Next day, December 20th, I went into Manhattan to check out the wonderful holiday bazaar shops at Bryant Park and picked up some nice last minute gifts.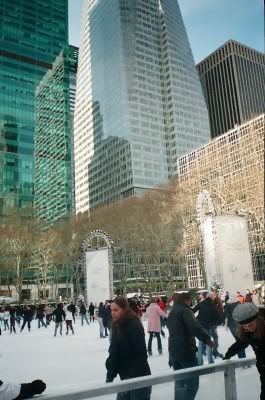 [Bryant Park skating rink day after snowstorm]

Wednesday, December 23rd, I was treated to lunch by a co-worker [Angela] and we went to Simply Pasta on West 41st Street.
December 24th through 27th – I spent the Christmas holiday weekend with my family in upstate NY. Mom and Dad picked me up at bus depot on the afternoon of Xmas Eve. From there we spent the rest of Xmas Eve at Duane and Michelle's home in Schenectady. After a delicious dinner, we drove around the neighborhood to check out all the homes decked out in assorted holiday splendor. I did some computer/internet work and also watched "Ace of Cakes" on cable TV. Love that show!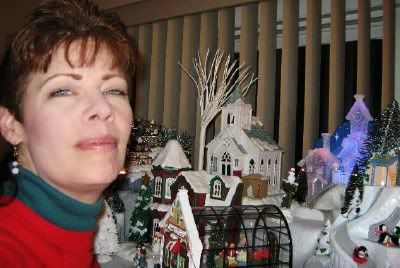 [The Duchess is getting into the holiday spirit]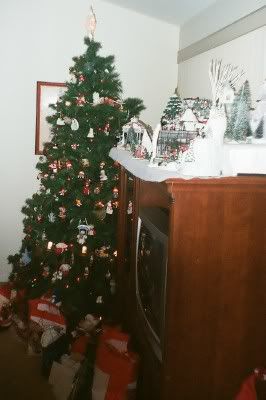 [Holiday decor at my brother and sister-in-laws home]

After breakfast and opening gifties on Xmas morning; Mom, Dad and I headed back up to the homestead in Cambridge. We spent a leisurely afternoon at the homestead before heading to a relative's home for dinner and play bowling on their Wii. I didn't do too badly at the Wii and my highest bowling score was 142. Rest of the weekend did some shopping, hair salon, relax, and the computer. Mom and I watched "Shrek2" and the first "Night at the Museum" on cable TV, along with PBS and the wonderful Food Network. I headed back to NYC on Sunday via the bus.