[

DUCHESS NOTE

- Many thanks to Josee in telling me about this awesome website and knowing how much I love collecting and reading books. Your the best MF! Check out "Library Thing - Catalog your Books Online" ... http://www.librarything.com/
]
BUMPER STICKER QUOTE

... I Read Banned Books
PERSONAL NEWS #112
On Saturday, December 2nd, I met up with my friend Sheila at Grand Central Station at 11:30am. Oh my gosh, has it been a year since we last saw each other and checked out the holiday gift bazaar at GCS and Bryant Park?!? [We stay in touch via email and phone.] We both couldn't believe how crowded GCS was during that first weekend of the holiday season. Mon dieu! We grabbed some soup from the food court downstairs to nosh on and catch up on news/gossip. Then back upstairs to stroll around the GCS holiday gift bazaar. So many lovely, wonderful gift items and many were abit overpriced. Despite all that we had a delightful time and actually made some affordable purchases. From there we strolled west on 42nd Street and stopped at a Starbucks not far from Bryant Park. Weather wasn't too bad that day, though there was a slight chill in the air. From there we walked across the street and into Bryant Park; which was bustling with vendors, holiday shoppers, tourists, etc. The small skating rink was doing brisk business and outdoor café was full. Everyone was enjoying the day. Sheila and I found several Chanukah/Christmas gifts at this bazaar for friends and family. Then it was off to Port Authority for some light refreshment before Sheila boarded her bus back to NJ. Overall we had a most enjoyable day. We're planning a get together this spring in her neck of the woods. Sheila lives near Princeton and I've always wanted to "check out the sites" in that area.
I attended Joe & Marie's annual holiday party on Sunday, December 3rd, at 12pm. Like the year before it was held at this delightful Japanese buffet on 33rd Street. The variety of dishes, which includes sushi, is always delicious. When I arrived Joe's friend Maria was already there and we greeted each other warmly with hugs. I haven't seen Maria since she moved to NJ with her partner Kelly. We caught up on news, gossip and the renovations of their house. [Possibly a NYDoP social event when house is completed.] Ellen and Larry showed up, as well as a few others whose names I don't recall. We all sat at Joe's tables. Marie's family and friends were at other tables. Some folk brought toys for the Toys for Tots campaign. Our table was getting into some funky conversations and lots of laughs. The wine and Sake was helping it along. At 3pm I headed to the NYDoP office to participate in remainder of the Planning Day meeting. Caught the last hour as Karen, Carol, Marianne and Susan were wrapping up. The ladies were gelling around some nifty ideas for the NYDoP core team to tackle in 2007. I'm so looking forward to it all.
On Monday, December 4th, after exchanging a few emails I went on a dinner date with Jerry, whom I met via Yahoo Personals. We met up, after work, in front of Simply Pasta in midtown for dinner. The restaurant is nicely situated, good service and excellent cuisine. Jerry and I talked on numerous topics [ie: work, family, current events, life in NYC] and had several laughs. He's a nice, thoughtful gent. Afterwards we strolled over to Bryant Park to take in the atmosphere and watch the skaters. We closed the evening out with a smile and handshake at 10pm, and then headed for our respective subways.
I took a much needed vacation day on Wednesday, December 6th. Started my holiday cookie baking, finish decorating the apartment [photo below] and had two doctor appointments.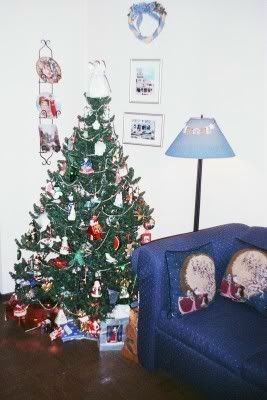 BUMPER STICKER QUOTE ... Support Our Troops & Bring Them Home Alive!

On Thursday, December 7th, New Yorkers for a Dept of Peace held an impromptu board meeting. [I'm board member and secretary.] With the process of incorporating, the board members needed to go over important issues like bylaws, forms, etc. The meeting was held at Karen's charming apartment on eastside of Manhattan. When I joined NYDoP and the board two years ago in November 2004, there were 11 board members. Now there are 8 board members and our core team is 20. We got much accomplished that evening and we all agreed that I'd need a microcassette recorder for future meetings. Its not easy catching all the necessary info and my shorthand is deplorable, though my brisk long hand is quite reliable. Overall a productive meeting and only Liz couldn't make it due to being ill at the time.
On a very cold Friday evening, December 8th, I volunteered with City Harvest down at Union Square. This was my first time participating in this type of weekly activity. A small group of us took large City Harvest bags around to the vendors. We then waited around for a cold 45 minutes before picking up the goods. During that time I was given hot spiced grape juice by a kindly vendor. Plus I conversed with some of the vendors on how business was doing. Felt so good to drink the beverage and feel the warmth flow through my chilly body. Earlier that morning I'd purchased a warm ski cap to keep my head protected. So very glad I did. Then around 6:15pm our group [ie: 2 gals, 1 fella & I] went around the Farmers Market to collect and bag leftover bread/veggies. We packed up the City Harvest truck and went our separate ways at 6:45pm. Upon arriving home I took a long, warm bubble bath, light dinner and watched telly.
The next day, December 9th, I met up with fellow Tolkien fans/acquaintances Jackie and Carole at Café la Fortuna around 1pm. I brought along the latest "Tolkien Society" newsletter called "Parma Nole" to lend to Jackie, as she's not a member yet of the society. Weather was still abit cold outside, but not as bad as day before. Shortly after Jackie and I started lunch Carole showed up. I hadn't seen her since the ELF Con in late July and Jackie hadn't seen her since we went to the Tolkien Reading event in March. We started off talking about Tolkien and things in general. It then progressed to Carole dominating the conversation. She pretty much "took over" for rest of afternoon and into the evening. Its so annoying when some people "take over" conversations and seem "miffed" when others participate. Anyhow, after hanging out at the café, we stopped by a shop so Jackie could purchase a holiday wreath for her apartment. Then we jumped on the downtown subway and at this point Carole wanted to "tend to things" near her apartment before continuing our adventure. We had no issues with a brief detour. HA! Brief detour … what a crock of crap … we were at her messy apartment [sometimes playing with her two cats] for over 2 hours. Carole and Jackie mostly talked about Wicca stuff. Whenever I tried to participate in the conversation I got the strong impression that Carole resented it. [I later told my friend Larry of the conversations & he said she sounds "out of touch" with reality.] Finally, I suggested we go out to grab some light refreshment. After wandering around Chelsea for awhile, we settled on a pizza place and then to a bisexual bar/restaurant for drinks. [I have no idea why & very odd.] More and more I was getting the feeling of two's company and three's a crowd from Carole. I never got this feeling from Jackie, who is always nice and thoughtful. At this point the conversation switched to Jackie and her recent health issues. Carole and I were very supportive and understanding. [Since then Jackie has learned that her "situation" is benign. Hurray! No cancer! Amen!] At this point it's going on 10pm and I had to get up early next day. I said my goodbye's and told Jackie to email me as soon as results came in on tests.
QUOTE OF THE DAY
...
There is no flag large enough to cover the shame of killing innocent people.
Howard Zinn

Sunday morning, December 10th, I headed out to Queens for my one hour workout session with Marie, my personal trainer, at the Powerhouse Gym. Darn good workout and I know I'll be sore for a few days.
Find me on MySpace and be my friend!
BUSH MOVED TO KEEP VISITORS LOG A SECRET

NY Daily News
WASHINGTON - The White House and the Secret Service quietly signed an agreement last spring in the midst of the Jack Abramoff lobbying scandal declaring that records identifying visitors to the White House are not open to the public. The Bush administration didn't reveal the existence of the memorandum of understanding until last fall. The White House is using it to deal with a legal problem on a separate front, a ruling by a federal judge ordering the production of Secret Service logs identifying visitors to the office of Vice President Cheney. The five-page document dated May 17 declares that all entry and exit data on White House visitors belong to the White House as presidential records rather than to the Secret Service as agency records. Therefore, the agreement state, the material is not subject to public disclosure under the Freedom of Information Act. In the past, Secret Service logs have revealed the comings and goings of various White House visitors, including Monica Lewinsky and Clinton campaign donor Denise Rich, the wife of fugitive financier Marc Rich, who received a pardon in the closing hours of the Clinton administration.