PERSONAL NEWS #113
On Tuesday, December 12th, I attended a NYDoP core team strategy/planning meeting at Norma's office around 12:30pm. Norma's office is a few blocks from my office, so my lunch hour was spent being involved with a creative meeting. Others in attendance were Carol, Marianne, Susan, Liz and Kevin joined us via speaker phone. That evening I listened in on the National DoP conference call at 9pm, which is always interesting and inspiring. So many Dept of Peace groups around the US involved in teaching about the legislation and inspiring non violence action/communication.
I took a vacation day on Wednesday, December 13th, to do more holiday goodie baking, wrap gifts, final touches on decorating my home and sent out the last of holiday cards. It was a good, productive day.
On Friday, December 15th, one of my bosses [Keith] took Dana and me out to lunch at Esca near 9th Avenue. We both work for him and this was his way of saying "thank you for assistance in 2006". The restaurant itself is very nice, elegant, good service and delicious food. After work that evening, I headed down to Union Square Farmers Market to assist other volunteers for City Harvest. [Weather was abit milder than the previous Friday.] Fellow NYDoP board member [Joe] was also there, plus other volunteers who were new to me. Before collecting the final bags of leftover food, we all took a short break to check out the holiday gift bazaar next to the Farmers Market. I didn't purchase anything … its always fun to look at the assorted holiday goodies.
All These Democrats Do Is Talk, Talk, Talk

Mike Lupica, NY Daily News
http://www.nydailynews.com/news/col/story/489440p-412164c.html
Going In Circles: Vietnam, Iraq, Calls For Impeachment
Steve Hammons, Truthout
http://www.truthout.org/docs_2006/011607D.shtml
Kucinich Receives Petition Signed By Troops Opposed To Iraq War

http://www.ohionewsnow.com/?sec=news&story=sites/ONN/content/pool/200701/1289231133.html
[Duchess Note: Many thanks to Linda Z & Judith B in sharing the above news articles with me.]
Saturday evening, December 16th, I joined my friend Cielito and her cousin Gloria in attending a hip, funky holiday/political activist party. I'm told this annual event is always held at this spacious, charming penthouse just off of Central Park West. The party is also potluck style and I brought my homemade fudge brownies. We arrived shortly after 7pm and there were already some guests. Master of ceremonies was Rick from the "We the World" organization and they endorsed NYDoPs Gandhi event back in September. During the course of the evening, I chatted with a few people I knew from the 2004 Kucinich for President Campaign As well as other fascinating individuals; such as a naturopathic doctor [Phillip Craig], Deborah Hicks with "The Recovery Channel", a student from Switzerland and Danny Schechter of Mediachannel.org. One of the highlights that evening was strolling around the terrace with a glass of wine admiring the views, while conversing with other guests. The terrace wraps around the whole penthouse with one shaded area for summer time lounging. As the evening progressed the place filled up with more guests and some left early, while others brought musical instruments for further entertainment. When Cielito, Gloria and I left around 10pm the place was packed and a lady was belting out a song next to the piano. Terrific evening and I so enjoyed myself, plus I even handed out my business cards and talked abit about Dept of Peace.
The next morning, December 17th, I joined Gili at Will's apartment in Park Slope for the weekly "peace circle". I brought along some holiday cookies for refreshment. I'm still hunting in stores for a particular pillow that Will had in his living room and I utilized for my back. Oh gosh, that felt wonderful. Later that afternoon, around 4pm, I attended Marjorie and Alan's [ie: know them via PDA & CBID] holiday party in Brooklyn Heights. Their apartment is the first floor of a Brownstone on a charming, tree lined side street in that neighborhood. First few things I noticed about their apartment were the 13 foot high ceiling and sparse furnishings in living room and dining room. Once the place filled up with guests it wasn't as noticeable. Guests were bringing food and wine to share with the party. Many delicious goodies to sample and I brought some of my homemade cookies. Conversations varied from living in Brooklyn Heights to art to politics. I like a good eclectic sprinkling of topics. Around 5:30pm one of Marjorie's friends [Rabbi] led the "lighting of the menorah" ceremony in Hebrew. Those who knew Hebrew joined in, which was quite nice and delightful. I'd never experienced this tradition and it was nice to observe. Overall it was a most enjoyable day.
Next morning, December 18th, I had a lengthy doctor's appointment to figure out what's up with my larynx and a few other issues. May have something to do with the inhalers I utilize for my Asthma. I'll go back next month for a follow-up visit. That evening, after work, was the annual E&Y FSO holiday party held at Tavern on the Green. It's located off of Central Park West and the inside of this landmark is gorgeously decorated. Chandeliers everywhere, evergreen and garland swags, Santa's, elves, glitter and so much more. Definitely a feast for the eyes and not to be missed. Our department worked its way 3/4s of the way back through a rabbit warren of rooms and ended up near bar/buffet.
[L to R – Mike, Katarina & Sy from E&Y]
Per doctor's orders and due to a slight infection of the bladder; I could only partake of water, seltzer or cranberry juice for next two weeks. Oh well, glad I was able to enjoy abit of wine over the past weekend. So I drank Cranberry/Seltzer that evening at holiday party, as well as partake of some very tasty nibblers. As for the buffet, well, I must say I was abit disappointed with the limited choice. Insurance Tax took over one large round table and we all enjoyed ourselves
[photos above & below]
for about 2 hours or so. Place was packed with other FSO departments and a live band was provided for dancing.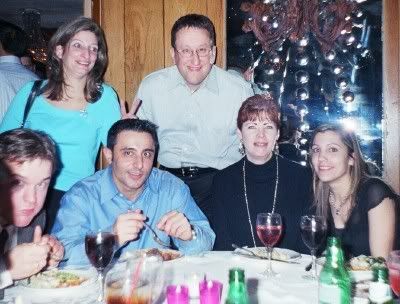 Video of John Edwards [2008 Democrat Candidate] at Riverside Church on Martin Luther King Day

http://johnedwards.com/media/video/mlk-day-riverside-church/